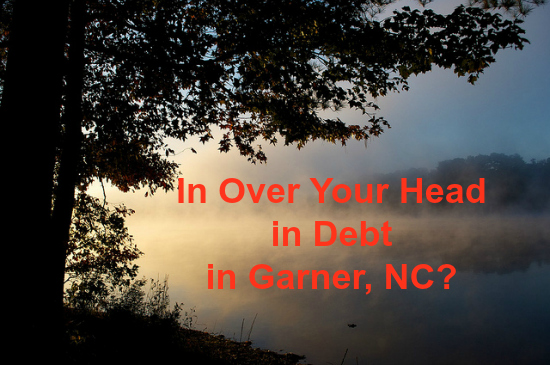 In debt in Garner, NC? Come see us for help
Image Source: Flickr CC User Mike P.
If you're drowning in debt, you know how unpleasant financial stress can be. It may feel like money is the sole focus of your life. You worry about every dollar spent and find yourself unable to save for emergencies or retirement, or plan for the future. It's no way to live. If you're a Garner, North Carolina consumer considering bankruptcy as a solution, here are five steps to take right now.
#1 Assess Your Finances and Debt Circumstances
Before you decide on bankruptcy, consider these questions:
Have you been sued, had judgments against you or been threatened with creditor lawsuits?
Are most of your delinquent debts unsecured, such as credit cards and medical bills?
Are you being harassed by debt collectors calling you at home, work and on your cell?
Are you unable to service your debts given your current earnings?
If you answered yes to one or more of these questions, bankruptcy might be a fit solution to your debt dilemma.
#2 Pull All Three Credit Reports
You need all three of your credit reports on hand to ensure all of your debts make it into your bankruptcy filing. In addition to your all-in-one credit report, you also need to pull together your other financial info before you start the bankruptcy process.
You'll need these documents:
Your last two years of tax returns.
Your last few months of pay stubs – if your income has changed, you may need more.
Collection letters, lawsuit notices and judgments.
Copies of bills for all your household expenses, such as childcare and utilities.
Finance documents for your mortgage, lease, auto loan, or other obligations.
#3 Find a Reputable Attorney Who Specializes in Bankruptcy
Trying to file bankruptcy without a qualified attorney at your side can challenging and may not deliver the best results. We also recommend against giant national firms, as smaller firms typically offer more personal attention. Look for a local Garner, North Carolina law firm that specializes solely in bankruptcy and has been practicing law in the state for at least a decade. Check out their reviews online as well. 
#4 Do Your Credit Counseling ASAP
Once you choose an attorney and go in for your consultation, you'll have to complete the first of two bankruptcy counseling sessions before your petition can be filed. You'll normally complete this first session at your Garner, North Carolina bankruptcy attorney's office. You can do the second on your own after your bankruptcy petition is filed, but it must be completed before the court grants your final discharge order. It's best to complete both sessions as soon as possible.
#5 Start Preparing for Post-Bankruptcy Freedom
While bankruptcy does offer a fresh financial start and can eradicate many debts, it's up to you to make the most of this clean slate. As soon as you file bankruptcy, it's time to get busy planning for your future. This means closely examining the circumstances that caused your financial issues, then setting a budget, controlling expenses, and not making the same mistakes from your past.
To find out more, call +1-919-646-2654 today for a free Garner, North Carolina bankruptcy consultation at one of the locations of the Law Offices of John T Orcutt in Raleigh, Durham, Fayetteville, Wilson, Greensboro, Garner or Wilmington. No matter your debt dilemma, we're ready to listen and help. Get out of debt today and get the financial peace of mind you deserve.