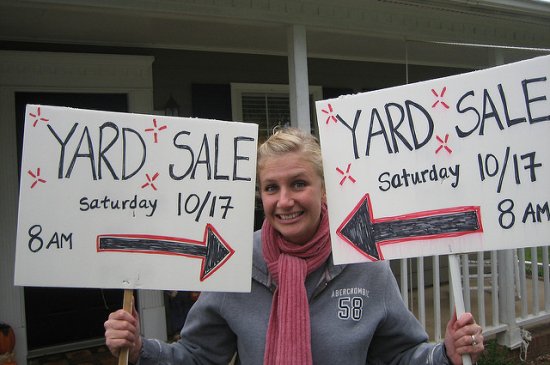 Need fast cash? Here are some ideas
Image Source: Flickr User Rubbermaid Products
If you're behind on your bills or have debts your regular paycheck won't take care of, raising some extra money can help. This is an idea better suited for taking care of one debt crisis, not for dealing with all-encompassing and ongoing debt. But if you get hit with a tax bill you weren't expecting, a car repair, or other one-time expense, here are seven ways to raise last-minute cash to bail yourself out.
#1 Sell your spare stuff
We all have items lying around that you don't use that have value for others. There are two ways to do this. First, you can hold a garage sale and try and unload your spare items for a lump sum. But if you don't have enough for a garage sale or can't spare that much time, list the items on Craigslist, USell or another online site. You can often make more by individual direct sales than at a garage sale.
#2 Sell your time
Babysitting, house sitting, and pet sitting are all lucrative sidelines that can earn quick cash. Pet sitting pays big bucks per day, and you can care for animals in your home, so it's easy and convenient. Housesitting is also profitable and can often be done on weekends when you have more time. Babysitting is a great evening and weekend activity to help busy friends who need a night out.
#3 Rent your space
If you have a spare bedroom or finished basement, you may be able to rent out your spare space on Airbnb or another similar site. You can rent out rooms for the night, weekend or week – or you can rent out space to a roommate to stay for six months or a year. This can turn into an ongoing source of revenue, and if you opt for Airbnb, you're not committing to one person for a long stint.
#4 Sell your plasma
Plasma donations pay about $50 per donation, and Talecris Plasma Resources in Raleigh is one of the many places around the state. Donating plasma takes around 30-45 minutes. It's painless, and plasma regenerates after two days, so it's harmless. Healthy women under a certain age can donate eggs for around $3,000 a cycle and men can donate biological materials for around $100.
#5 Rent your car or your driving services
If you have a late model car in good mechanical condition, you can rent it out on Turo for $40-$150 a day. If you work at home and your car sits around, or you have two vehicles, this can be an excellent way to earn more money without lifting a finger. If you're not comfortable letting a stranger drive your car, why not sign up for Uber or Lyft and drive for profit? It's fun, flexible and pays instant cash.
#6 Consider a second job
If you need money to take care of a short-term increase in expenses or a one-time debt, going after a part-time or spare job may be the answer. Some temp firms can find you just a week or two part-time job, or you can look for evening work, a short-term waiter/waitress job or an occasional job like catering staff may help out. Perhaps you know someone who owns a business and needs occasional help.
#7 Slash your expenses
Another great way to "create" money is to cut immediate expenses. Cut back your cable or ditch it and get a digital antenna. Change your cell to a low-cost prepaid plan. Increase deductibles on your home and auto policies to cut premiums. Find a carpool to work to cut down on commute costs. Turn off your heat and A/C completely when you're not home and completely cut out dining out.
Consider bankruptcy to deal with debt
If you're in a one-time cash crunch thanks to an unexpected bill or expense, these strategies can help you through a rough patch. But if you're constantly living paycheck to paycheck, dealing with collection calls and are always running behind, you may need a serious debt intervention. Chapter 7 bankruptcy wipes out credit card debt, medical bills and some past-due taxes. Chapter 13 can buy you time to catch up on delinquent mortgage and car loan balances and wipe out some unsecured debt.
Get the peace of mind you deserve and a financial fresh start. Contact the Law Offices of John T. Orcutt now for a free North Carolina bankruptcy consultation today. Call +1-919-646-2654 now for a free consultation at one of our convenient locations in Raleigh, Durham, Fayetteville, Wilson, Greensboro, Garner or Wilmington.