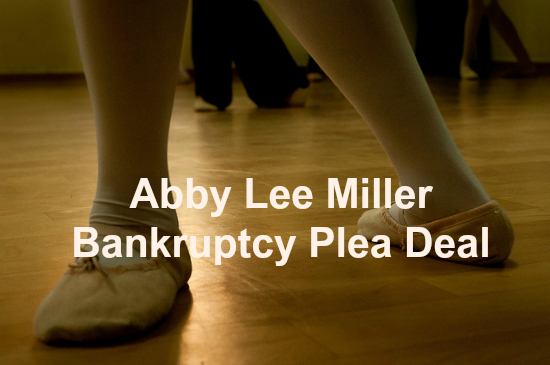 Dance Moms - Abby Lee Miller bankruptcy plea deal
Image Source: Flickr CC User Flavio~
In ongoing celebrity bankruptcy drama, the case of Dance Mom's Abby Lee Miller has been in and out of the news for months. What kept the spotlight on Miller's fraud case is that the allegations and indictment against her played into the storyline of her hit Lifetime show. Here's the latest news on the deal that Abby Lee Miller cut with Federal prosecutors.
Federal Case - 20 Count Indictment
In 2010, Abby Lee Miller filed Chapter 11, the year before Dance Moms debuted and before her money-making machine kicked into high gear. It was a business bankruptcy designed to help her dance studio reorganize debt and regain its financial footing. Chapter 11 is a common business tactic to help struggling companies get control of debt and carry on.
Abby's Chapter 11 case was going along fine until her bankruptcy judge, Judge Thomas Agresti, happened to be watching TV one night, surfed past Lifetime, and saw that Miller, whom the judge remembered from court, had her own TV show. After that, he questioned the validity of the case. Agresti didn't recall TV show salary being part of her case and contacted her Trustee.
Agresti's revelation prompted an investigation that found that Abby Lee Miller allegedly had $52k of her Dance Moms money paid to her mom to shield it. Reportedly, Miller requested that Collins Avenue Entertainment issue payment for "talent fees" to her mother Maryen Miller while her Chapter 11 bankruptcy case was ongoing.
But that wasn't the end of it. The investigation found a total of more than $755k of allegedly concealed income and this resulted in an indictment (which is a finding by a grand jury that the defendant should stand trial to face the charges). If found guilty in full court, Abby Lee Miller faced up to five years in prison and a $5 million fine.
Money Laundering Charges
Abby Lee Miller was slated to appear in Federal court in Pittsburgh, then news broke that she would face another charge that could tack on another $120k in fines. This accusation was money laundering – although it's not as sinister as it sounds. Federal prosecutors claim Miller brought back more than $10k of Australian cash when she returned from a Dance Moms' event there.
You can bring back cash, but you have to report foreign currency brought into the country if it exceeds a certain dollar amount. Miller failed to report, which resulted in the money laundering charge. However, Abby Lee Miller cut a last-minute deal just five days before her scheduled court appearance, negotiating a settlement with the Federal court for the bankruptcy and money charges.
Negotiated Settlement to Avoid Jail Time
Reportedly, Miller will enter a guilty plea to the court for at least some of the charges leveled against her – but likely not all of them. The plea deal will allegedly see Abby Lee Miller serve little (or no) jail time, but the bulk of the punishment will come in the form of a hefty fine against the Dance Moms diva. Miller had initially pleaded not guilty to the charges when she was arraigned in Pittsburgh, Pennsylvania on November 2.
Lessons to be Learned
The primary lesson from all of this is that if you choose to file bankruptcy, you should be completely transparent with your attorney in all matters. Hiding income is a bad idea – and as you can see from the Abby Lee Miller case, it can lead to serious consequences. Bankruptcy is a chance for a clean slate, so there's no reason to try and cheat the system. Plus, only when you're completely honest with your attorney can they offer you the best advice for your financial circumstances.
To find out more about the benefits of North Carolina bankruptcy, contact the Law Offices of John T Orcutt. Call +1-919-646-2654 now for a free, no-obligation consultation at one of our convenient locations in Raleigh, Durham, Fayetteville, Wilson, Greensboro, Garner or Wilmington.