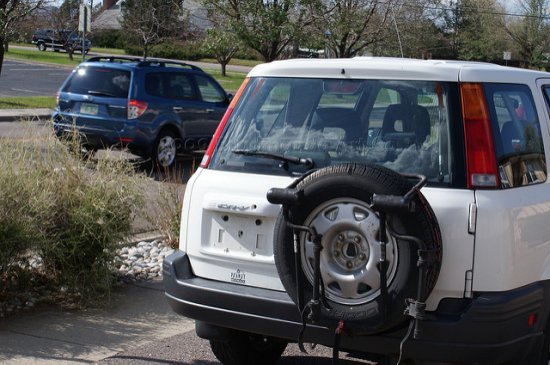 Auto Choices bankruptcy left many without tags
Image Source: Flickr User Bradley Gordon
Auto Choices, a Greensboro, North Carolina car dealer on Battleground Avenue, has rolled up its banner, closed shop. and filed bankruptcy. It affects the community when any business files bakruptcy, but this case is particularly troubling because many recent auto buyers are left high and dry on DMV paperwork. Here's what you need to know if you recently purchased a car from Greensboro's Auto Choices.
DMV Paperwork And Tags Left In The Lurch
When you buy from a car dealer, they typically take care of titling and tagging your vehicle, which can cost you $100 or more. Unfortunately for Greensboro consumers who recently purchased a car or truck from Auto Choices, they are now left with tagless vehicles and will have to use money out of their own pockets to get a title or tags. 
Auto Choices did not offer notice to customers before they filed bankruptcy, and, although they were not required to, it would have been helpful for customers to be able to plan ahead. DMV officials have been working to solve problems for car buyers with no plates, and Guilford County officials are looking at criminal charges for taking money and not delivering.
Contact The DMV If You Paid For A Tag From Auto Choices
The North Carolina DMV is working to help Greensboro consumers that got caught up in Auto Choices' bankruptcy missteps. John York, a DMV rep, says, "This particular issue...is pretty rare for us. We did have a small rash of them in 2009 when the economy crashed, so it's pretty rare...[but] fairly significant."
York added that the DMV is looking for Auto Choices customers that have not received their permanent registration and paid the Greensboro dealer to handle their paperwork. One victim is stuck paying $15 every 10 days for a temporary tag so she doesn't get stopped driving on an expired temporary plate. The DMV is encouraging anyone affected to call their fraud line at (919) 861-3143.
Lessons To Be Learned From Auto Choices' Bankruptcy
If you're a business owner considering bankruptcy, here are some things to consider. Monies that you have collected and owe to government agencies—such as IRS withholding of payroll taxes, sales taxes, and other funds intended for the government—must be paid to the proper agency. If you do not, then criminal charges can be filed against you.
No matter how deep your debt, dipping into money that belongs to the government—even if it's in your bank account—is a bad idea. That's not your money, so don't treat it like it is. Filing bankruptcy won't get you off the hook for money you collected and owe to a government agency. Be sure to take care of these obligations.
Notice Isn't Necessary
It's also not necessary that you notify customers, vendors, or employees ahead of time, but if you want to, you may alert people of your plans. The first person to discuss your business bankruptcy with, even if you haven't decided yet to file, is your bankruptcy attorney. 
A reputable and experienced North Carolina bankruptcy attorney can look at your company's financial position and advise you whether bankruptcy is your best course of action or whether you can take another route to deal with your business debts. Also, if you own a small business, personal rather than business bankruptcy may be a better route, or you may need to file both depending on whether your personal and business assets and debts are entangled.
To find out more about Greensboro business bankruptcy, contact the Law Offices of John T. Orcutt. Call +1-919-646-2654 now for a free consultation at one of our convenient locations in Raleigh, Durham, Fayetteville, Wilson, Greensboro, Garner or Wilmington.