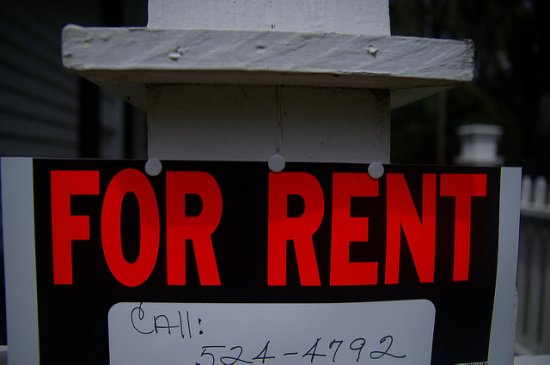 Past due on rent? Bankruptcy may help
Image Source: Flickr User Charleston's TheDigitel
For those behind on their bills and looking for a way out, bankruptcy can be a helpful solution depending on your financial circumstances, income, type of debt, and how far you're in arrears. One question we hear from potential clients that don't own their homes is whether rent that's past due can be cleared up in bankruptcy. It depends on the type of bankruptcy you file and whether you want to stay in the property.
Chapter 7 Bankruptcy and Past-Due Rent
Chapter 7 bankruptcy allows you to discharge unsecured debts, including credit cards and medical bills, signature loans, and some past-due income taxes. Chapter 7 takes just a few months start to finish and can give you a clean slate on many types of debt. However, if you're behind on rent or secured debt like an auto loan or mortgage, it's not very flexible.
If you're past due on your rental contract or lease for an apartment or house, Chapter 7 does not normally have a mechanism that allows you to catch up on delinquency. It's all up to the Trustee assigned to your bankruptcy case. Your Trustee may allow you 30 days to catch up on the past-due, if possible, and if you can, you may be able to stay in the property.
The Trustee assigned to your case may not be interested in assuming the lease as part of your Chapter 7. If you're past due, your balance owed will be discharged in bankruptcy and the landlord can file to evict you. You may be protected by the 90-day automatic stay on collections unless your landlord files a Motion for Relief and asks to be exempted from the stay to evict you.
Chapter 13 Bankruptcy and Past-Due Rent
Chapter 13 bankruptcy buys you time to catch up on past-due balances. To do this, you must make current monthly payments on secured debt such as your auto loan or mortgage. On top of that, you must make monthly installments towards your past-due balance on secured debt and some portion on your unsecured depending on the payment plan your Trustee approves.
If you're past due on rent, there are two options in Chapter 13 bankruptcy. One is to keep the lease for the property or reject the lease and move out of the property. If you want to stay in the rental property, the past-due amount on the lease becomes part of your Chapter 13 repayment plan. That means you must pay the current monthly amount plus the installment on the plan.
Once on the repayment plan, you must keep up or face the consequences. If you miss any rent payments or plan installment payments, you will be in violation of the plan. If you can't catch up and get the plan back to good standing, then the landlord can petition the Trustee to lift the automatic stay on debt collection so they can evict you from the property.
Can You Stop an Eviction With Bankruptcy?
The quick answer to if you can stop a rental eviction with bankruptcy is "maybe." If your landlord has filed for eviction, but there has been no eviction writ issued, you may be able to stop it by filing bankruptcy so that your eviction falls under the automatic stay that prevents a creditor from collecting. Even if it is stopped, the landlord can ask for the stay to be lifted so the eviction can move forward.
Are you behind on your rent and worried about eviction and other debt? Bankruptcy might be the best solution for you to get a clean financial slate as soon as possible. To find out more, contact the Law Offices of John T. Orcutt. Call +1-919-646-2654 now to schedule a free North Carolina bankruptcy consultation at one of our convenient locations in Raleigh, Durham, Fayetteville, Wilson, Greensboro, Garner or Wilmington.