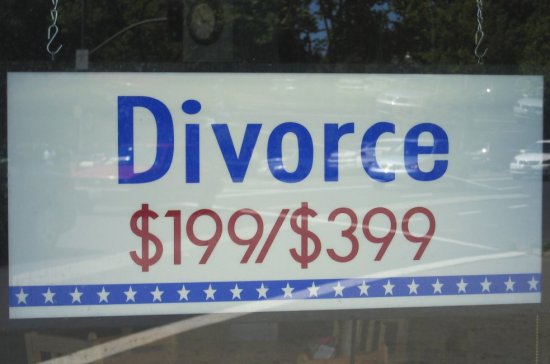 Consider your debt before you divorce, not after
Image Source: Flickr User banjo d
In many cases, it's best to take care of financial matters before your divorce. If you're so deep in debt as a married couple that you're struggling to pay your bills, are surviving paycheck-to-paycheck, maxed out on credit cards, and have other financial trouble, clearing up that mess before splitting can be beneficial to both parties. Clearing up debt make the divorce more amicable and prevent future money squabbles. However, if you're already in bankruptcy and you can't wait for a divorce, here is what you need to know.
Divorce During Chapter 7 Bankruptcy
Chapter 7 bankruptcy is pretty fast. It's typically three or four months start to finish. A rapid divorce can take about the same time. You might be able to stop your Chapter 7 bankruptcy if you file to request for dismissal but, in general, the court won't dismiss a case without a very good reason. If you have just begun the bankruptcy process and fail to attend your 341 Meeting of Creditors or submit required documents, your bankruptcy might be dismissed anyway.
With Chapter 7, because of how fast it moves, filing bankruptcy before a divorce is smart. If only one of you filed bankruptcy and the bankruptcy can't be stopped, the other spouse filing bankruptcy soon after may be the next best thing. That way, both spouses can get the full relief offered under the bankruptcy code even if you didn't file a joint bankruptcy. Mutual bankruptcy can help you move onto your divorce and go your separate ways without debt dragging you down.
Divorce During Chapter 13 Bankruptcy
Chapter 13 bankruptcy is another matter because it takes three to five years to complete and that's far slower than your typical North Carolina divorce. If you filed individual bankruptcy rather than as a couple, that can be trickier, particularly if you have joint debts rather than them being mostly in one spouse's name. Speak to your bankruptcy attorney about your planned divorce and get their advice. It is possible to split one Chapter 13 joint bankruptcy into two individual ones.
Another possibility is to convert the Chapter 13 case to a Chapter 7 bankruptcy, if you qualify, to eradicate the debt so you can move on with your divorce and your life. If you're close to the end of your Chapter 13 bankruptcy, you might want to hold out and wait to file your divorce, so you don't overly complicate either the bankruptcy or the divorce. If you just began your Chapter 13 case, your best move might be to dismiss the Chapter 13, assess your finances, in light of the divorce, then refile.
Divorce Complicates Bankruptcy and Vice Versa
It's a tough thing if your marriage falls apart, but an amicable divorce can help make things better. Arguments over finances can be divisive and can make what was a reasonably easy divorce turn acrimonious. That's not pleasant for anyone. If you got into debt as a couple, it seems reasonable to get out of it as a couple, and bankruptcy can help get you both a fresh start if you can't afford what you owe. Plus, if you can't pay your debts together, you likely can't pay them once you split either.
Property divisions can complicate a Chapter 13 bankruptcy since property transfers are not allowed. If you co-signed for debt, but only one of you filed Chapter 7 bankruptcy, the other spouse can still be pursued for collections. That can make your relationship with your soon-to-be-ex pretty tough. The ideal approach may be to speak with both a family law attorney and bankruptcy attorney before you file either a divorce petition or a bankruptcy petition to get the best results.
To find out more about divorce and debt, contact the Law Offices of John T. Orcutt today. Call +1-919-646-2654 now for a free North Carolina bankruptcy consultation at one of our convenient locations in Raleigh, Durham, Fayetteville, Wilson, Greensboro, Garner or Wilmington.