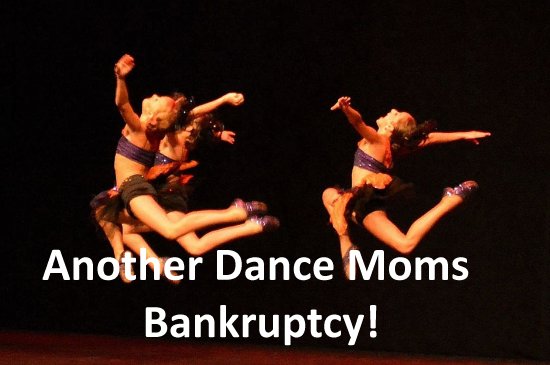 Celebrity bankruptcy alert - another Dance Moms bankruptcy
Image Source: Flickr User Valerie
In today's celebrity bankruptcy alert, we look at another reality TV star that danced their way out of debt using Chapter 7 protection. If you watch Dance Moms or have a teenage daughter, no doubt you know the name Maddie Ziegler, the teen dance sensation that is the top dancer on the Lifetime reality TV show. But it's Maddie's parents that are the stars of this bankruptcy story.
Dance Moms Bankruptcy Strikes Again
As we've written before, Dance Moms boss Abby Lee Miller filed Chapter 11 bankruptcy just as her TV show was taking root. Then last year, Miller was accused of bankruptcy fraud and hiding income and assets by the bankruptcy court after the judge assigned to her already-dismissed case saw her show on late night reruns. Since then, Miller was indicted for bankruptcy fraud and now faces trial.
Maddie's parents, Melissa Ziegler-Gisoni and Kurt Ziegler, now divorced, filed for Chapter 7 protection in May 2009. They listed more than $1.2 million in debts, including close to $1 million in mortgage debt on three separate properties. They also had more than $14k in tax debt according to Radar Online.
They also had a whopping $200k in credit card debt, plus another $7k owed for jewelry. The case filing showed that Melissa and Kurt earned close to $4500 per month, but their outgoing monthly expenses were nearly double that at $8k per month. Their bankruptcy and debt was discharged in 2010 and then, in 2011, Melissa and her daughters landed the plum role on Dance Moms.
Dance Moms Divorce
Melissa is now re-married after a split from Maddie's father Kurt in 2011, the same year their bankruptcy was finalized. The divorce – and many of their financial problems – was blamed on the toll of pursuing competitive dance careers for both Maddie and her younger sister Mackenzie Ziegler. So how much does it cost to be a Dance Mom?
A former Dance Mom stated that she spent about $16,000 a year on competitive dance but said the dance tuition was the cheapest part at about $4k a year. Costumes, competition entry fees, and travel expenses make up the bulk of the cost. Plus, there is usually no financial reward as part of the prize at a dance competition – just a trophy.
But with six kids between them in Maddie and Kurt's marriage, two girls in competitive dance had to come at a heavy cost to the large family. Plus, when Dance Moms kicked off, the pay was pretty paltry at about $1-$2k per episode with end-of-season bonuses. With 33 episodes a season, that's a good chunk of change, but the costs have escalated each season with more travel and then a move to LA.
Bankrupting Yourself for Your Kids
In the case of Maddie's mom, all those years of tuition and travel costs have paid off. Maddie has been featured in three Sia videos that amassed more than 1.8 billion YouTube views and scored her multiple performances on the Ellen show, as well as film opportunities. Maddie also started in May 2016 as the youngest judge ever on the So You Think You Can Dance franchise.
But for every Maddie, there are tens of thousands of girls that won't ever see fame from their dance. Millions of parents across the US devote tens of thousands of dollars a year to their children's hobbies and athletics, including travel sports teams, competitive dance, miniature race cars and other interests. But is the money worth it?
If you can't afford to pay your bills and set money aside in savings, then you are likely overspending on these activities. And believing that going into catastrophic debt now will pay off when your child is a professional athlete or another type of high-earning performer is a long shot hope. According to the NCAA, less than .04% of high school athletes will ever play professional sports.
The Bottom Line
Putting yourself in the poorhouse to give your kid long-shot opportunities is probably not wise. Instead, teaching your children how to budget, the importance of saving money, spending frugally and living within your means is a much more practical legacy. No matter what they do with their lives, these valuable lessons will serve them well.
If you're deep in debt, living paycheck to paycheck, and stressed out about debt collections calls, we can help. Contact the Law Offices of John T. Orcutt today for a free North Carolina bankruptcy consultation. Call +1-919-646-2654 now for a free consultation at one of our locations in Raleigh, Durham, Fayetteville, Wilson, Greensboro, Garner or Wilmington.