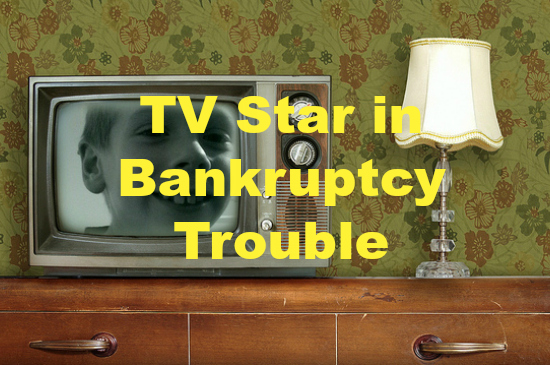 TV star's troubled bankruptcy case 
Image Source: Flickr User Christine Jackowski
In today's celebrity bankruptcy alert, we look at another famous face in trouble with their bankruptcy trustee. We covered the news when Tisha Campbell-Martin first filed Chapter 7 bankruptcy with her husband Duane Martin, but now the duo is taking heat from their filing.
Tisha Martin-Campbell has a long career in TV but claimed insolvency in her recent joint Chapter 7 filing with her husband. Her latest TV role – on the sitcom Dr. Ken – is the subject of controversy with the bankruptcy court and is throwing a wrench into her case.
The Actress's Debt and Asset Situation
Generally, still-working celebrities will file Chapter 11 or Chapter 13 to reorganize their debts. Tisha Campbell-Martin and her husband Duane Martin, though, opted for the more sweeping debt relief of Chapter 7. And now the court is asking questions.
The couple listed debt of $15 million versus assets of roughly $310k and had a production company, XE Vision, seized as part of their bankruptcy plan. But the trustee assigned to their case discovered the couple had opened a new production company after they'd filed.
That company, Won Hundred, was collecting paychecks from Tisha Martin-Campbell's current job on Dr. Ken. The trustee has accused them of trying to hide their income by opening the new company and diverting payments there and away from XE Vision.
The Trustee's Next Steps
The trustee in the Martin-Campbell case stated the couple transferred more than $185k of Dr. Ken paychecks into their new company after they filed Chapter 7. The trustee brought the claims to the court and a federal judge issued an injunction against the Martin-Campbells.
The judge's order against Tisha Martin-Campbell and her husband Duane Martin said they cannot transfer any more funds into the new company, cannot spend money already deposited there, and cannot transfer any funds outside of that company.
Celebrities and Bankruptcy Trouble
A number of celebrities have landed in hot water due to their bankruptcy filings. Abby Lee Miller of Dance Moms fame faces fraud charges for allegedly hiding income from her reality show in her bankruptcy case. Miller faces fines and possible jail time if convicted.
Curtis Jackson, known as 50 Cent, also landed in hot water with his bankruptcy trustee because of social media posts with flashy cars and stacks of cash. His attorney asserted that the photos were for promotional purposes, but a judge told Jackson he should act like he's broke.
Fraud Is Not Limited to Celebrities
It's not just celebrities who end up in trouble with the bankruptcy court. Some regular consumers hide assets or income from their bankruptcy attorney. This is just asking for trouble. Bankruptcy offers impressive debt relief, but you must be honest as part of the bargain.
If you're considering bankruptcy, it's critical that you don't hold anything back from your bankruptcy attorney about your income, debt or assets. Your bankruptcy attorney can only offer the best advice if they have all the data they need. And you don't want trouble with the court.
Bankruptcy fraud is no joke. It can result in fines, penalties, re-establishment of debt and even jail time. Consider what happened to Real Housewives of New Jersey's Teresa Giudice and her husband over their bankruptcy fraud case. Both ended up with jail time!
Bankruptcy Offers Meaningful Debt Relief
Chapter 7 and Chapter 13 bankruptcy offer meaningful debt relief without gaming the system. To find out more about how North Carolina bankruptcy can help you, contact the Law Offices of John T. Orcutt for a no-obligation appointment.
Call +1-919-646-2654 now for a free North Carolina bankruptcy consultation at one of our convenient locations in Raleigh, Durham, Fayetteville, Wilson, Greensboro, Garner or Wilmington. Don't live with debt stress another day. Come see us about meaningful debt relief and a brighter financial future.