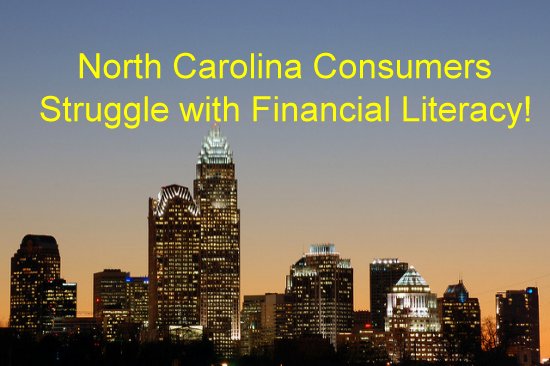 New survey shows NC financial literacy concerns
Image Source: Flickr CC User James Williamor
A recent study shows that an alarming number of adult consumers across America – and in North Carolina – struggle with financial literacy. Many can't answer basic questions about topics like financial products or ways to save. Here's a look at how North Carolina consumers fared against Americans in general on this financial literacy study.
Spending vs Saving
In North Carolina, 19% of consumers spend more than they earn, compared to 18% of Americans at large. When you spend in excess of your earnings that means you're regularly dipping into savings, running up credit card debt, or skipping out on paying bills. It's not good a good habit.
Plus, 25% of North Carolina consumers have medical debt, compared to 21% of the US –and that same percentage of residents have medical bills that are overdue. Even though more North Carolinians have medical coverage now, climbing out-of-pocket costs can still trigger medical debt that's unmanageable.
The good news is that an increasing number of NC consumers now have a rainy day fund, compared to years prior: 43% of those in our state now have emergency savings.
The bottom line: Too many North Carolina consumers are still spending beyond their means. This might be either because they make an excessively low income or because they are earning a healthy chunk of change but are spending too much of it.
Managing Debt
Non-bank borrowing includes dodgy financial arrangements with pawn shops, payday loans, or title pawn companies – despite the fact that payday and title loans are illegal in our state because of the exorbitant interest rates they charge.
Almost 30% of NC residents use this type of unaffordable financing, compared to 26% across the country. However, this number has gone down 3% over the last three years. People in North Carolina are also managing their credit cards better.
Three years ago, 37% of residents were also paying just the minimum on credit card balances, a percentage that has now dropped to 33%. Also improving is the number of NC consumers whose homes are upside down (i.e. have no equity). The number dropped from 12% down to 9% over the past three years.
The bottom line: North Carolina consumers seem to be managing their debt better, which is a good sign – but there's still a lot of room for improvement.
Financial Literacy
In the section of the study on financial literacy, participants were asked about matters such as how interest rates impact loans and how much interest they would have to pay in a basic lending scenario. Our state's financial knowledge is roughly on par with the rest of the US – but this is hardly something to celebrate.
The survey consisted of five financial literacy questions. 64% of North Carolina study participants answered three or fewer of the questions correctly.
This lack of knowledge is reflected in further study findings, which showed that most North Carolina consumers don't bother to comparison shop for credit cards when getting new plastic. In NC, 55% of participants did NOT compare credit card offers (although this has improved from the 67% that didn't comparison shop six years ago).
The bottom line: Many North Carolina consumers simply don't understand their finances. There is a host of free resources available online, so consider testing your own financial smarts to see how you compare and then educating yourself further.
The High Cost of Financial Illiteracy
If you don't understand the impact of interest rates, the value of shopping smartly for financing arrangements like credit cards, and the serious impact of paying bills late and maxing out credit cards, you can do serious damage to your finances and credit score.
If you're an NC resident buried in debt you can't afford to pay, consider coming into the Law Offices of John T. Orcutt for a free North Carolina bankruptcy consultation today. Call +1-919-646-2654 now for a free, no-obligation bankruptcy appointment at one of our convenient locations in Raleigh, Durham, Fayetteville, Wilson, Greensboro, Garner or Wilmington.
Resources:
FINRA study