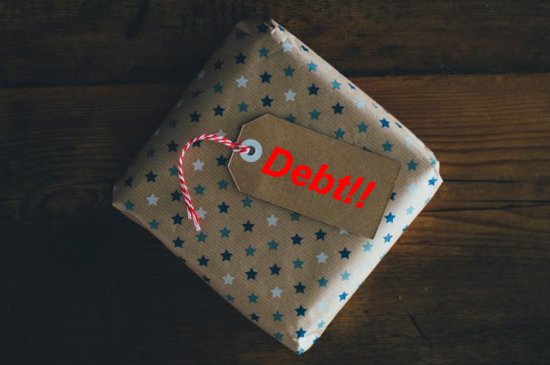 Did you get into debt over the holiday?
Image Source: StockSnap.io
Now that Christmas is over, the gifts are opened, and the New Year's champagne has gone flat, it's time to deal with reality. For many North Carolina consumers, that reality is harsh and means a ton of debt going into 2017. Here are the hard numbers on this year's holiday spending and what you can do about your debt.
Survey on 2016 Holiday Debt
Magnify Money used Google survey to poll consumers to see how much debt people got into for Christmas this year. Some had money set aside for holiday spending but many people took on debt for gifts this year. Of those that racked up debt for year end, 65% took on debt unexpectedly. Debt spending was up nearly 2% compared to Christmas 2015.
Those that got into debt racked up more than $1,000 in debt compared to about $985 in 2015. Just half of those that took on debt for the holidays think they can pay it off in about four months but some think it will take longer. This increase in debt is no surprise since three million more people planned to shop early holiday sales at Thanksgiving compared to last year.
Spending Was Up Significantly in 2016
The National Retail Federation anticipated sales during November and December, aside from eating out, auto fuel, and auto sales, to reach nearly $656 billion, which is up significantly from 2015. Online shopping also soared this year and broke the $5 billion mark for the first time in American consumer history.
According to a survey by Deloitte, total holiday sales will top $1 trillion. Holiday spending is expected to increase by 8% this year according to American Express. In addition to spending being up, nearly 60% of consumers put holiday spending on their plastic. What's also interesting is the uptick in mobile spending, with 76% of Americans shopping using a mobile device this year.
It used to be that you had to get into your car, drive to a store and fight the crowd to buy Christmas loot. This hassle could curb enthusiasm for spending. But the advent of online shopping has made it easier to spend faster and more conveniently. It's no wonder spending is up when the portals to spending have multiplied enormously and you can shop 24/7/365.
Did You Rack Up Debt Over the Holidays?
If you overspent for the holidays, you're likely worried about getting out of debt. Here are some ideas to deal with your holiday spending.
#1 Return what you can
If you have gifts for yourself or the family that aren't needed and are a result of overindulgence, why not return them? Return what you bought and the merchants will credit your accounts and that's less credit card debt immediately.
#2 Go on a cash diet
The worst thing about credit card debt is piling more on top of it. Quit swiping your plastic, cut back on extraneous spending ASAP, use cash to make sure you don't get deeper into debt, and devote all available money to reducing card debt.
#3 Get your utilization lower fast
If you're using more than 30% of your available credit, your credit score could take a beating, even if you're making your card payments on time. Rather than trying to pay off one card at a time, try to get all below 30% and then keep chipping away.
#4 Start saving for next year now
In addition to dealing with this year's debt spending, you should be thinking about next year's Christmas even though it seems far away. Set yourself a practical budget for the next holiday and set aside a bit of money every paycheck towards it so you can have a debt-free Christmas 2017.
#5 Consider bankruptcy
If holiday spending was the tipping point that has pushed you into financial disaster, you might need a serious debt intervention. If your cards are maxed out, you can't pay more than minimums, you're living paycheck to paycheck and debt collectors are calling, bankruptcy might be the answer.
To find out more about getting debt-free in the new year, contact the Law Offices of John T. Orcutt. Call +1-919-646-2654 now for a free North Carolina bankruptcy consultation at one of our convenient locations in Raleigh, Durham, Fayetteville, Wilson, Greensboro, Garner or Wilmington.
Resources: