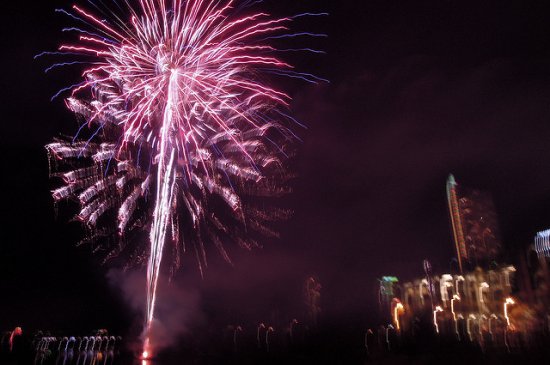 New Year's is the time for resolutions!
Image Source: Flickr User Jon Lebkowsky
The new year starts in two days and if you're considering resolutions for 2017, your finances should be top of the list. Most New Year's promises are about working out, losing weight, or otherwise improving yourself personally, but what about your money? Here are some facts about New Year's resolutions and some to consider in the second part of our two-part series on how to have a better financial 2017.
Fun Facts about New Year's Resolutions
If you're considering a resolution for New Year's 2017, here's some info from a Static Brain survey. Around 75% of people stick to their resolutions for a week. Once it gets to two weeks, it drops to 71%. After a month, 64% stick to their goals. When you reach the six-month mark, less than half are sticking with their resolutions with just 46% hanging in there. After that, more drop off every month.
These statistics don't mean you won't keep your resolutions, but just know that you must be firm in your resolve. To get your finances straight and keep them that way, we offer the last five of our recommended financial resolutions to consider as we approach New Year 2017. Be sure to read part one from earlier this week to see the first five resolutions to consider.
#6 Track spending to gain insight
It's easy to set a goal to cut back on Starbucks or eating out, but maybe those habits aren't really the problem with your finances. Track your spending for a month without changing anything and see where your money goes and then look for trouble spots that need improvement.
#7 Ditch your costly vices
Cutting back on smoking and drinking is not only good for your health but also for your wallet. These vices are expensive and the money would be better used paying off credit cards, saving for retirement, or going towards bills. Plus, you should see medical savings as well when you eliminate unhealthy choices.
#8 Build up an emergency fund
If you don't have an emergency fund, you're asking for trouble. Whether it's a car repair, an appliance that quits on you, or unexpected medical expenses, having a rainy day fund of a couple of thousand dollars is wise and can cushion you against financial disaster.
#9 Make more money
This sounds like an obvious resolution, but if you sit back and wait for more money to come your way, it might take a while. If you're due for a raise, ask for one. If you can't get one at your current job, maybe it's time to dust off your resume and make a move to somewhere you can earn more.
#10 Consider bankruptcy
For those too deep in debt to dig their way out, the New Year might be a good time to consider a more drastic approach to your finances. If you can't pay off what you owe, not including your mortgage and car loan, in a couple of years, you may have too much debt to handle without an intervention.
Filing bankruptcy now can have you debt free in 2017. Chapter 13 bankruptcy can help you catch up past-due balances on secured debt like your mortgage and car loan and lower balances on credit cards and medical bills. Chapter 7 bankruptcy can totally wipe out many unsecured debts and give you a clean slate.
If you're ready for a change in the New Year, make a resolution to get your finances straight! North Carolina bankruptcy can help. Contact a reputable and experience NC bankruptcy lawyer to find out more. They'll look at your finances, income, and debt and tell you if bankruptcy is a solution for you.
Contact the Law Offices of John T. Orcutt to find out more. Call +1-919-646-2654 now for a free North Carolina bankruptcy consultation at one of our convenient locations in Raleigh, Durham, Fayetteville, Wilson, Greensboro, Garner or Wilmington.
Resources: