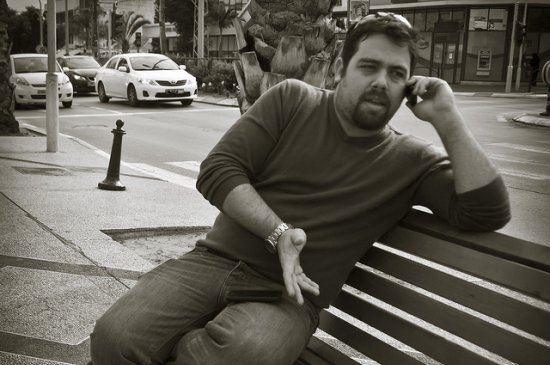 You deserve to work without getting debt collection calls.
Image Source: Flickr User Alon
Many debt collectors follow the law and won't harass you with non-stop calls and other over-the-line antics. But there are some that will do everything they can get away with, including threatening you with arrest, saying they're an attorney when they are not, calling at all hours, and calling several times in a row. All of these tactics are in violation of the Fair Debt Collection Practices Act (FDCPA). Here are four ways to push back and get the legal protection you deserve.
#1 Tell Them You're Not Allowed to Have Calls at Work
You have to very carefully phrase your request that the debt collector stop calling you at work. You can tell them you don't want them to call, but they can legally keep calling. You can tell them you're busy, and they'll keep calling. You can tell them you'll report them, and they'll keep calling.
But tell them your employer does not allow you to receive personal phone calls at work, and they legally must stop calling. If they sass you, you can get legal and tell them that, under USC Code 15 section 1692, they must stop calling now that they've been notified you can't receive calls at work.
#2 Write Them a Letter 
Telling a debt collector to stop calling you won't work. However, sending them a letter and telling them in writing to stop calling you will force them to stop it. You can tell them they can contact you only via US Mail. 
You can also tell them you want to cut off all means of communication, but the problem with this is that they might get more aggressive and file a debt collection lawsuit against you. This can result in a judgment, liens, and other nasty consequences. Asking them to contact you only via mail leaves them an open avenue.
#3 Tell Them You Won't Pay the Bill
If you can't pay the bill and want the calls to end, communicate that you refuse to pay (again, in writing). This lets them know you're not going to pay, and putting it in writing legally means they have to stop communication. If the debt is still within the statute of limitations, they may sue.
Also, none of the above will work for the creditors you owe—only debt collectors assigned to collect your debt by the original creditors. The original creditors (i.e. the lender, credit card issuer, etc.) can contact you but must still abide by Fair Debt Collection Practices Act provisions.
#4 Tell Them to Call Your Lawyer Because You Filed Bankruptcy
The first, second, and third options above can all trigger a debt collection lawsuit against you. If the debt is small, they might not go to the trouble and expense. But for something that's $1000 or more (or less, depending on the debt collector), you might be sued for the debt plus legal and collections costs.
If you file bankruptcy, by law, debt collectors and creditors both must immediately stop contacting you about the debts. Bankruptcy can help you get a financial reset by wiping out unsecured debt like credit cards and medical bills.
To find out more about putting an end to your debt problems with bankruptcy, contact the Law Offices of John T. Orcutt. Call +1-919-646-2654 now for a free North Carolina bankruptcy consultation at one of our convenient locations in Raleigh, Durham, Fayetteville, Wilson, Greensboro, Garner or Wilmington.