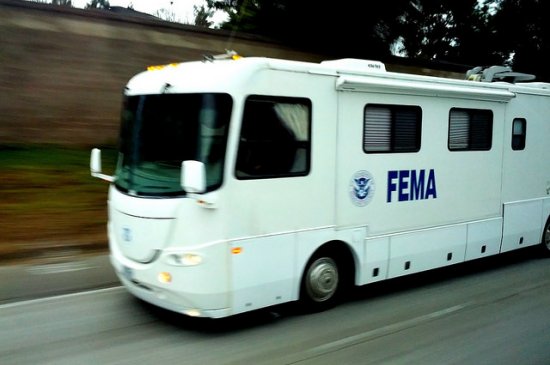 Garner NC consumers watch out for FEMA scam
Image Source: Flickr User Travis Wise
In the wake of Hurricane Matthew, scams are already kicking off, and North Carolina consumers should be on the lookout for fraud after the frenzy. In today's consumer alert, we take a look at the new FEMA scam and give you the info you need so you don't fall prey to fraud.
Natural Disasters Always Encourage Fraud—So Beware
The best way to protect yourself from fraud is to be on high alert. If you're dealing with water or wind damage from Hurricane Matthew and its accompanying storms, scams might be the last thing on your mind, but you should remember that people might try and take advantage of your hardship.
Here are some tips for Garner, North Carolina consumers to protect themselves from FEMA fraud:
#1 Don't Give Out Personal Information
You might get a call or knock on the door from someone who says they're with FEMA and are there to help. They might not be—or they could be scammers. It might seem like innocuous info, like whether you own or rent your home and when you might be available for them to come back to see you, but you should keep your guard up and don't tell them anything about your property.
#2 Ask for Identification
Sophisticated scammers might have a fake FEMA ID but many won't bother and will just hope that unwitting consumers won't ask for one. So be sure to ask to see identification, and not just a work badge that might say FEMA, and also ask to see their drivers' license to confirm that it matches the work ID. Usually, scammers will refuse to show identification, make excuses, or walk away.
#3 Request the Application for Assistance Number
FEMA comes out because you applied for assistance, so the real people won't show up randomly. If you have applied for FEMA assistance, that doesn't mean a scammer might not come to your door. In addition to asking for ID, ask them to provide the registration number you were given when you registered for assistance. Confirm the number matches, and if they don't have it, send them away.
#4 Don't Pay Anyone Anything
FEMA doesn't charge for assistance, repairs, or to take your application for repair assistance. They also won't send out any type of middlemen to inspect your property on their behalf. Unless the person has an official FEMA badge, your registration number, and is NOT asking for money, they could be a scammer. Don't give upfront money to anyone who triggers your suspicions.
#5 Beware the Risk of Visible Damage
Some storm damage in Garner, North Carolina may be hidden inside your home, but damage that's visible from the street may attract potential scammers. If you have a damaged roof, windows, shutters and more, you might find yourself deluged by pressure from contractors, fraudulent (and legitimate) home repair offers, and more. Be particularly diligent if this is your situation.
What Can FEMA Do for Garner, North Carolina Consumers?
If your Garner home was damaged by Hurricane Matthew or the related storms, you may be able to receive assistance from FEMA to help with repairs. Go to www.FEMA.gov to apply for assistance. FEMA will send an employee who will have a FEMA photo ID badge and your registration number.
They will inspect the damage and report back to FEMA. They will not ask you for any money or send a repair person to your home, and they will not endorse particular contractors or repair firms. If your home was damaged, applying for FEMA assistance might help with your home repairs. Check their website to see if you qualify.
To find out more about debt relief options for Garner consumers, contact the Law Offices of John T. Orcutt. Call +1-919-646-2654 now for a free Garner, North Carolina bankruptcy consultation at one of our convenient locations in Raleigh, Durham, Fayetteville, Wilson, Greensboro, Garner or Wilmington.
Resource: