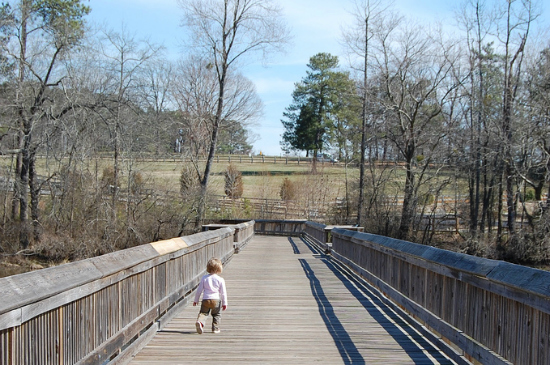 Garner's future looks bright - how can you walk into it without debt?
Image Source: Flickr User threemiraclesshy
If you live in Garner, North Carolina and are deep in debt, the Cabela's outdoor superstore that recently opened off Jones Sausage Road may be the solution to your problem – particularly if unemployment is a factor in your debt dilemma. Here's how the new store is helping Garner, NC and could help you deal with your debt.
How Cabela's is Changing the Garner Economy
Cabela's brought 200 jobs to Garner, but that was just the tip of the economic iceberg. Because it's the only Cabela's in the state and is constantly packed, the store has encouraged other development nearby. Plus, existing businesses are now thriving, including restaurants and other retail outlets.
More business and more development mean more jobs, but that's not all. Cabela's alone will generate about $80k in tax revenue, which is good for the city and county. Also good is the store's impact on property values – Cabela's and other associated development have triggered more than a 6% increase in evaluations.
The average increase has been closer to 2% a year, and the increase is within the last year alone. The county will likely need to do more hiring to support infrastructure growth, plus all new businesses will need employees, and existing businesses may need to ramp up hiring as well.
How Garner NC Growth Helps You
If you're unemployed, underemployed, or not earning enough, now may be a good time for you to look for a better paying job or migrate from part-time to full-time employment. 
Garner's increase in property valuations can also benefit you. If your home is underwater (i.e. you owe more than it's worth), it can normally be close to impossible to sell or refinance your mortgage. But with interest rates very reasonable right now, this could be a good time to get a better deal on your home or sell it.
Living in an area with healthy economic growth brings many more financial possibilities than living in an area that's not prospering, from job opportunities to enhanced property values. A booming economy bodes well for everyone.
How to Make the Most of Garner's Booming Economy Despite Debt
If you're neck deep in debt, now is a good time to make the most of what Garner has to offer. But first, you may need a fresh start. The first thing to do is see if you can solve your money problems without a serious intervention.
For Garner, NC consumers who can cut back on spending, work a few more hours, change up their budget or otherwise tweak their income or expenses to get their debt under control, that's a perfect option. But for many, small changes just aren't enough.
If you're drowning in debt, there may be no way to cut your spending or increase your income enough to make a dent in what you owe. Chapter 13 bankruptcy can help you get on a payment plan to conquer your debt, and Chapter 7 bankruptcy can help eliminate debt rapidly and completely.
To find out if bankruptcy might be a good solution to your debt problems, call +1-919-646-2654 now for a free Garner bankruptcy consultation at the Law Offices of John T. Orcutt. Contact us now for a no-obligation appointment at one of our convenient locations in Raleigh, Durham, Fayetteville, Wilson, Greensboro, Garner or Wilmington.