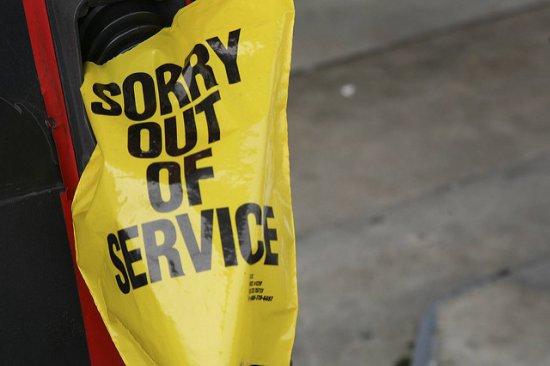 Greensboro, North Carolina hard hit by gas shortage
Image Source: Flickr User Ed Schipul
National headlines this week showed gas shortages in Greensboro, North Carolina, all across our state, and also in South Carolina, Georgia, and Tennessee. All of these states get auto gas from the Colonial Pipeline that runs from Texas across the Southeast and up through NC.
News reports showed staggeringly long gas lines that look like a throwback to the 1970s when the Carter Presidential area gas shortages crippled the nation. The gas line leak resulted in the loss of roughly 300,000 gallons of gas in the spill that was found on September 9.
Greensboro gas stations ran out of fuel, gas pumps were bagged and consumers worried about having enough gas to make it to work. So what can be done to protect you when unexpected crises like these hit? There are steps you can take to prepare yourself without going into full-on prepper mode.
What Supplies Should You Keep Around the House?
Most of us take for granted that we can get to the store to buy food and fuel. When snow storms brew, everyone knows to head to the store to buy bread and milk, but sometimes emergencies crop up and you can't get to supplies or there are none available. 
The 2012 hurricane that hit New York City and the Eastern seaboard left many without running water, electricity, or access to food supplies for many days—in some cases up to two weeks. Situations like these can happen, and Greensboro consumers should be prepared.
A week's supply of canned food, fresh water, and enough gasoline to fill your vehicle tank is the minimum to keep on hand, along with a couple hundred dollars' cash in case ATMs are inaccessible. If your grocery store gas station offers gas discounts, stock up when you have a $1/gallon off discount.
Know What Supplies Need Replenishing
Also, bear this in mind—gas in a can does not stay viable forever. Stored gas becomes oxidized and goes bad after three to five months in storage. So stockpiling a bit is wise, but bear in mind that you need to swap it out three to four times a year to keep it fresh.
Water must be stored in appropriate containers, and having both potable and non-potable (i.e. water you can drink vs water that must be treated or boiled first) on hand is a good idea. Water storage containers are cheap and can be stored in your garage or pantry.
Canned foods are easy to stock up on since they last and don't take up much room. You don't have to go all-out, but having some basic supplies on hand if something unexpected knocks out power, roads, or gas supplies is wise.
Preparing Can Save You Big Money
Often, when emergencies crop up, prices can skyrocket as goods become scarce. Having a modest supply of essentials on hand can save you big bucks in case of an emergency. Many gas stations hiked their rates this week by 60 cents a gallon when lines started wrapping around the block.
By shopping canned good sales, you can stock up on cheap food and protect your hard earned cash from price-gouging in times of need. And you don't have to do it all at once. By spending just a few bucks a month, you can build up a small stockpile without hurting your bottom line.
If you're a Greensboro, NC consumer struggling with debt, contact the Law Offices of John T. Orcutt for a free North Carolina bankruptcy consultation today. Find out how Chapter 7 and Chapter 13 can get you out of debt and offer financial peace of mind and a brighter future.
Call +1-919-646-2654 now for a free Greensboro, North Carolina bankruptcy consultation at one of our locations in Raleigh, Durham, Fayetteville, Wilson, Greensboro, Garner or Wilmington.