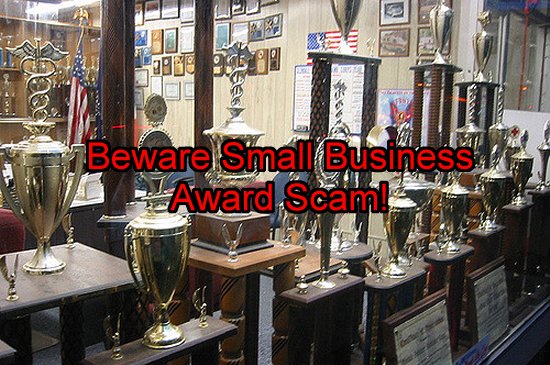 Beware this Greensboro NC small business scam
Image Source: Flickr User Kristine Paulus
In today's consumer alert, we look at a scam targeting Greensboro, North Carolina small business owners. It's always exciting to find out you've won an award, particularly when you're a small business eager for attention and accolades. But a new "award" scam is all about taking your money rather than honoring you for a job well done. Here's the info you need to know to protect your business.
How the Scam Starts and Works
Have you received a mail notice or email about an award your small business has won? Is this an award that you don't know anything about and didn't apply for? If you answered, "Yes" to these questions, it could very well be a scam. There are a number of companies that take advantage of small businesses by offering bogus, meaningless awards for a cost.
If you reply to the award notice, you'll be sent to a website where you enter the special "code" from your letter or email. From there, you learn about the "award" you've been selected for and are told that your business is doing well, is important to the community, and a bunch of generalizations that have nothing to do with you and what your business does.
The scam is that they get you to buy the physical award statue, plaque, or certificate. This can range from a few hundred dollars up to $4800 for some of the more sophisticated fake award programs. The $200-$350 deals come with a trophy and the nearly $5k ones include a trophy and recognition on a website that has no standing in any known business community, according to the NC DOJ.
Is it Illegal to Sell an Award to Small Biz Owners?
No, this is not illegal as long as the companies stick to inventing award names and don't pretend to be affiliated with recognized awards. It's up to you whether you fall for it and overpay for a meaningless award to sit on your front counter. This scam has been going on for years, but it is currently experiencing a resurgence.
It's cropping up from the Pacific Northwest to North Carolina and is making big money for the companies making up awards and conning small business owners to pay exorbitant rates for trophies that don't signify an achievement. The bottom line is that it's up to you if you want to buy an award to decorate your offices, but it's no more than décor.
The notification letters usually list your city and the award, so it would say something like, "Greensboro Small Business Award" or "Greensboro Small Business of Excellence 2016." If you get a notice that your  North Carolina small business has been "selected" for an "award," here are the steps to take to find out if it's legitimate.
#1 Ask Yourself, Did You Apply for the Award?
Many awards come with an application process where you can apply, list the reasons you deserve the award, and ask for recommendations, accomplishments, etc. Still other awards come after a nomination from an employee, business partner, etc. The awards you seek out yourself tend to be legitimate.
#2 Does the Award Require a Fee?
Scam awards have a monetary component. Either you pay to apply for the "award" or you pay to get the award itself, such as a fee for the trophy, certificate, website acknowledgement, etc.
#3 Does the Award Come With Any Esteem?
An award from the Greensboro Chamber of Commerce carries some cachet, as does a recognition from a local newspaper or something else you recognize at a glance. An award from some random place no one has heard of doesn't really do anything for the reputation of your small business and will be money out of pocket not well spent.
#4 What Does Google Say?
Google the name of the award. Often, you'll type in the first word and right after it will be the word "scam," and then you know to chuck the letter or delete the email. Unless you want an expensive trophy for your counter that means nothing, it's best to ignore it. If you want to help out other businesses, notify the North Carolina Department of Justice of the scam letter while you're at it.
If your small business is struggling financially and you can't pay the bills, contact the Law Offices of John T. Orcutt for a free Greensboro bankruptcy consultation. Call +1-919-646-2654 to discuss the differences between business Chapter 11 and Chapter 7 and the benefits of each. Come see us in Greensboro or our other locations in Raleigh, Durham, Fayetteville, Wilson, Greensboro, Garner or Wilmington.