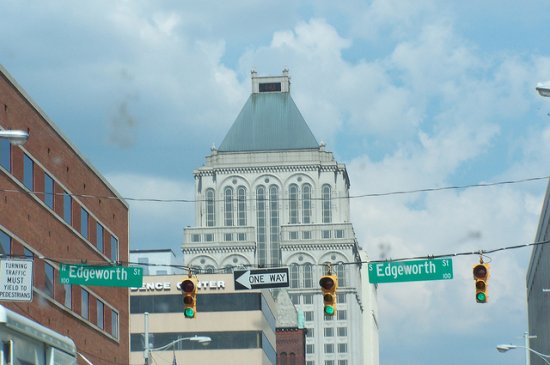 Great news for Greensboro!
Image Source: Flickr User Charles Smith
It's a good news day for Greensboro, North Carolina as one recent announcement shows things are looking up for business and jobs in the city and another brings several accolades to three local schools. If you're a Greensboro, NC resident, there is plenty to be excited about. Here's a look at what's happening.
Best High Schools Report Includes Greensboro
Each year, U.S. News & World Report ranks the high schools in all states across the country to tabulate its "Best High School Rankings" list. This year, for the "2017 Best High School Rankings," three Guilford county high schools made the cut.
Weaver Academy, on South Spring Street in Greensboro, was named the number one public high school in North Carolina, and it also made the Top 40 for high schools nationwide, coming at number 39 overall. Also, ranking for Greensboro was Early College at Guilford.
Early College is located on Friendly Street in Greensboro and came in at number three among North Carolina public schools and was ranked number 62 on the national school listings. That's a nice accolade for the high school that builds links between high school, college and beyond.
The ranking also included special designations for STEM (science, technology, engineering, and mathematics) schools. Early College ranked very high on the national scale for STEM schools landing at number four nationally.
A third Greensboro school made the list as well, Middle College at the University of North Carolina, Greensboro. This magnet program, located on Walker Avenue, made the North Carolina top schools ranking coming in at number 48 among the top 50 North Carolina public schools.
New Business Growth Coming to Greensboro
Aside from the incredible news about local Greensboro schools, business continues to boom. Proctor & Gamble announced a nearly $9 million investment in Greensboro this week. Proctor & Gamble already has a manufacturing plant just outside Greensboro, NC.
Now, Proctor & Gamble will expand to build a 22,000 square foot addition that will serve as warehouse space. This will be raw material storage space and while there are no new jobs to be added at the plant as a result of the expansion, the build project itself is exciting news.
Anytime business expands, that means workers hired for construction and materials bought at the local level and a bump in local spending and business activity that can have a ripple effect on the local economy.
The existing Proctor & Gamble plant produces deodorants including Old Spice, Secret, and Gillette as well as Olay skin care items. The plant has close to 850 local workers in the existing facility. A Dayton firm called MV Commercial Construction is handling the warehouse space build.
How Are Your Greensboro Finances?
Even with the economic improvement we're seeing in Greensboro at large, there are still many consumers experiencing personal financial hardship. If you're struggling with debt because of unemployment, divorce, medical problems or other issues, there is help.
In some cases, you may be able to conquer your debt by tightening your belt and living lean while you devote extra money to catching up on debt. In other cases, you might be so overwhelmed with debt that no amount of spending cuts can help you set things to rights.
If this is your circumstance, you might need a serious debt intervention like North Carolina bankruptcy. Greensboro consumers living paycheck to paycheck, dealing with debt collectors, and constantly stressed about finances don't have to live this way – help is out there.
Chapter 13 bankruptcy allows you time to catch up on past-due balances on your mortgage and car loan while Chapter 7 bankruptcy is sweeping debt relief that can wipe out credit cards, medical bills, and some older taxes within just a few months. Greensboro bankruptcy may be the answer for you.
To find out more about the benefits of bankruptcy, contact the Law Offices of John T. Orcutt. Call +1-919-646-2654 now for a free Greensboro bankruptcy consultation at one of our locations in Raleigh, Durham, Fayetteville, Wilson, Greensboro, Garner or Wilmington.