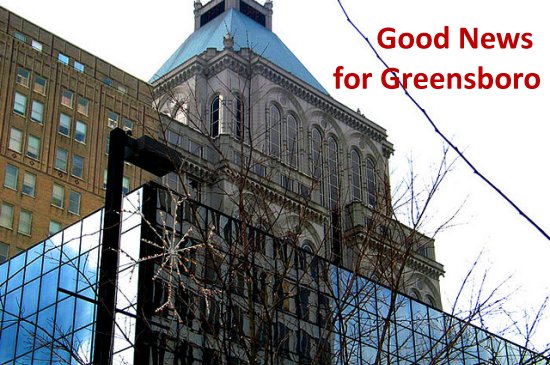 Greensboro is on the economic rebound
Image Source: Flickr User Taber Andrew Bain
Greensboro, North Carolina was one of the regions of the country hit early and hard by the recession as factory owners moved jobs overseas. This resulted in the shut down of furniture and textile businesses as the demand for furniture and rugs begin tanking in 2008 alongside a slowdown in the housing market. But now the economy in Greensboro is coming back strong – with a shift in production.
Could anyone imagine Greensboro going from area rugs to airplanes?
Greensboro was once a furniture boom town throughout the 1900s - but in the late 80s, foreign products became more competitive. 20 years later and even major firms like Bassett and Stanley were struggling. Some of the big furniture companies shuttered their Triad factories and either began manufacturing overseas or simply importing furniture and became wholesalers rather than producers.
The Honda Aircraft Company that touched down in Greensboro in the late 2000s changed the industry dynamic in Greensboro and the Triad. That, with the addition of health services and financial sector business and jobs, has drastically changed the industry mix and job opportunities for residents. All of this has increased spending power, property values and has made the city more appealing.
The unemployment crisis is done, job opportunities are up, and wages are on the rise. In short, it's a boom time for Greensboro.
How to make the most of Greensboro's improving economy
Greensboro residents have made it through the recession and are starting to enjoy the benefits of the uptick in jobs and other positive changes. But many locals suffered serious financial setbacks during the height of the recession – or later as an impact from it – and may still be struggling. If this is your circumstance, you may want to consider a debt intervention to make the most of Greensboro opportunities.
If you have unmanageable debt left from a period of unemployment during the recession or other negative impacts from the downturn of the economy, you can get a financial reset. If you are trying to get caught up on delinquent mortgage payments, have a second mortgage that you can't afford, maxed out credit cards, unpaid medical bills or other insurmountable debt, bankruptcy can help.
Chapter 7 bankruptcy puts an end to unsecured debt like medical bills and credit cards. Chapter 13 bankruptcy establishes a repayment plan to catch up on past-due mortgage and auto payments. Both also over additional debt-relief measures that can help create a fresh financial start. If you have negative equity in your home, you may be able to strip a second mortgage.
If the home is no longer affordable, you can surrender it in either bankruptcy chapter. If your car loan balance far exceeds the fair market value, this can be addressed in either Chapter 7 or Chapter 13. With Chapter 7, you may be able to pay the fair market value in a lump sum. With Chapter 13, you may be able to get the loan balance dropped to fair market value and the interest rate reduced for the remainder of the loan term.
Even though the Greensboro economy is on the upswing and holding steady, if you're drowning in debt from when it was troubled, you won't get the greatest benefit. Bankruptcy can help. Contact the law offices of John T. Orcutt for a free North Carolina bankruptcy consultation in Greensboro. Call +1-919-646-2654 for a free appointment at any of our NC locations in Raleigh, Durham, Fayetteville, Wilson, Greensboro, Garner or Wilmington.
https://goo.gl/maps/AL43arXWG2m