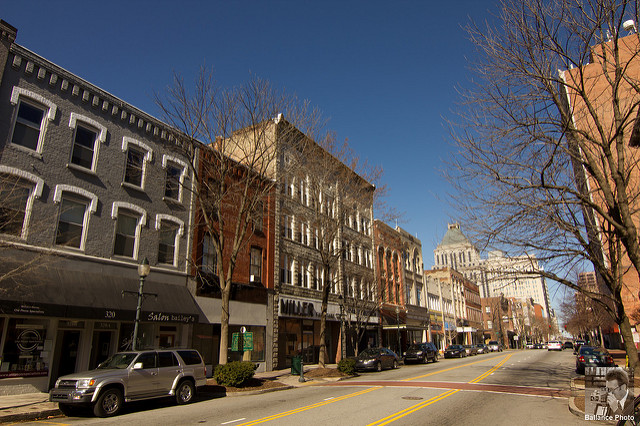 New report on income equality gives Greensboro, NC a promising ranking
Image Source: Flickr CC User Chris Ballance
The latest National Urban League report on black vs. white income and unemployment inequality shows that Greensboro, NC has made improvements since last year's report. Here's a look at the Black-White Equality Index report and the advances in Greensboro.
What the Index Report Covers
The National Urban League considers one of its primary missions economic empowerment. The report introduction states, "The Equality Index gives us a way to document progress toward this mission." This is the fortieth year that the National Urban League has presented the report.
The report also rates Hispanic-White equality. It considers five factors in creating its rankings: economics, health, education, social justice, and civic engagement. White populations are the benchmark and set at 100%. Black and Hispanic populations are ranked against this benchmark.
The overall total quality index for 2016 rates blacks at 72.2% and Hispanics at 77.8% versus the white benchmark. Of interest is that civic engagement for blacks is much higher than for whites, with rates at 100.6%. Hispanics exceed whites in the study's health category, with a score of 105.5%.
How Greensboro Ranks in the Study
For metro area rankings of unemployment equality, Greensboro-High Point, NC ranks third place. The study cites an average unemployment of 5.9% for whites and 9.5% for blacks. This is an improvement since last year when Greensboro NC ranked number five on the list with 13.1% unemployment for blacks versus 7.7% for whites.
When it comes to metro area rankings for income equality, Greensboro-High Point, NC ranks number 10. The study cites a median black household income of $32k versus median white household income of $50k. This was also a significant improvement over Greensboro's 2015 ranking.
Last year, Greensboro ranked number 16, with median black household income at $33k and median white household income at $53k. The higher the number on the ranking list, the greater the inequality according to the study.
Other NC cities that ranked in the study include:
#14 Unemployment equality – Durham-Chapel Hill, NC
#33 Unemployment equality – Charlotte, NC  
#44 Unemployment equality – Raleigh, NC
#56 Unemployment equality – Winston-Salem, NC
#14 Income equality – Winston-Salem, NC
#19 Income equality – Charlotte, NC
#22 Income equality – Durham-Chapel Hill, NC
#31 Income equality – Raleigh, NC
How North Carolina Bankruptcy Can Help
While Greensboro, NC is making great strides, anyone suffering from sparse employment opportunities and a low income can find themselves in a world of trouble. If you're stuck with too much debt for your income or have suffered a period of unemployment, North Carolina bankruptcy may be a good solution to your financial problems. Even if your income is substantial, bankruptcy can help.
Here's a look at what bankruptcy can do for those with too much debt:
Chapter 7 can wipe out most unsecured debts (credit cards, medical bills, etc).
Chapter 13 can give you time to catch up on past-due balances.
Past-due income taxes may be eligible for discharge, reduction or extensions in bankruptcy.
Repossession of a vehicle or foreclosure of a home may be stopped or delayed in eligible cases.
Chapter 13 may allow you to wipe out a second mortgage.
Chapter 13 may allow you to lower the balance due or interest rate on your car loan.
Chapter 7 may allow you to settle your car loan for less than the balance owed.
To find out more about bankruptcy in Greensboro, North Carolina, contact the Law Offices of John T Orcutt today. Call +1-919-646-2654 now for a free, no-obligation bankruptcy consultation at one of our locations in Raleigh, Durham, Fayetteville, Wilson, Greensboro, Garner or Wilmington.
Resource: