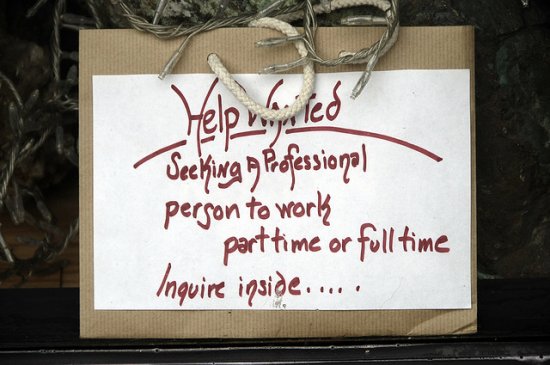 Want a new job? Your credit score may be a factor
Image Source: Flickr User Ming Xia
The latest unemployment numbers for Greensboro, North Carolina, show a promising shift in employment opportunities. Month over month, from August to September 2015 (the most recent period available) unemployment dropped nearly 1% from 6.2% to 5.3%. This is particularly significant for Greensboro consumers since the unemployment dip for North Carolina as a whole was lower at .7% (from 6.1% to 5.4%) and national employment remained stagnant at 5.1%.
Plus, with seasonal job opportunities on the rise, we can expect Greensboro unemployment numbers to continue to drop until the first of the year (and possibly beyond). If you are unemployed, underemployed (working less than full time), or looking to transition to a new job, now may be the time to make a move. If your finances are a mess, though, it can be a hurdle to getting the new job you want. Today we'll take a look at some of the ways your credit score and debt collections activity can impact your job search.
Your credit score and your job search
Not every employer will require a credit check as part of your pre-employment screening, but some will. In fact, some employers routinely check credit even for positions that aren't related to cash-handling (such as a cashier) or finance (such as a bookkeeper). But because many seasonal jobs can be financial in nature, if your credit score is low, you may struggle to land a position. Cashier and inventory jobs are common holiday job opportunities and credit checks may be a precursor to a job offer. And even past the holidays, a poor credit score can haunt you in your New Year's job search.
Your credit score and security clearances
If your job requires you to maintain a security clearance – this is common with military, government, and civil service positions – a low credit score can spell major trouble. For servicemen and women, a dip in their credit score that causes a security clearance denial or downgrade can result in an unexpected discharge and inability to obtain post-discharge employment as well. And with military members, debt collections efforts can be directed to your commanding officer resulting in more on-the-job woes. But what can help in all of these circumstances is a well-timed North Carolina bankruptcy.
How bankruptcy can help a job search
The good news about a bad credit score and a difficult job search is that Chapter 7 or Chapter 13 bankruptcy can help improve your finances and job prospects. How? Simply, bankruptcy puts an end to debt collections – so that means no more calls at work or stress about what you owe. Even for debts that aren't included in the bankruptcy (such as certain secured debt in Chapter 7), there is still a 90-day stay that begins when you file that gets creditors off of your back. And for those debts included in the bankruptcy, the stay will be permanent if the debt is eligible for discharge. This can allow you to focus better on your job or job search.
Explaining bankruptcy in a job interview
If your job application requires a credit check, the bankruptcy will show up – that's true. However, it will also show that your past-due accounts have been addressed by the bankruptcy. And when an employer asks about the bankruptcy, that's your chance to explain why you filed and what led to your debt issues. It's much easier to explain a bankruptcy than a pile of past due and open accounts. This is when you can explain that you had a bout of unemployment, accident, illness or divorce that resulted in debt.
Then you say that bankruptcy gave you a fresh start on your debt, and you're determined to make the most of the fresh financial start you've been given and will have 100% of your focus on the job. Bankruptcy is not a legitimate reason to reject someone for employment. If you think you were turned down for a job because of a bankruptcy, you can file a complaint against that business with the Equal Employment Opportunity Commission (EEOC). But bad credit is a bonafide reason to reject a candidate for many positions - at least according to the law.
To find out more about how bankruptcy can benefit your job search and give you the financial peace of mind you deserve, contact the Law Offices of John T. Orcutt. Call +1-919-646-2654 to discuss Greensboro bankruptcy in a free consultation at one of our offices in Raleigh, Durham, Fayetteville, Wilson, Greensboro, Garner or Wilmington. 
Sources: