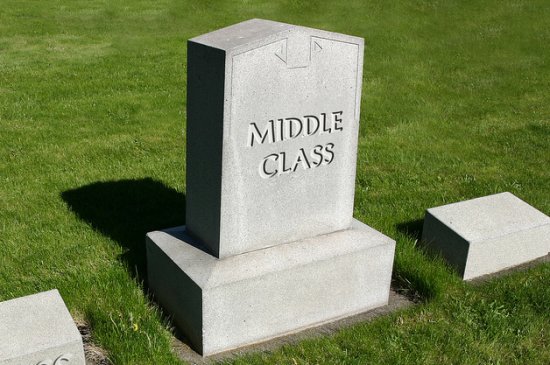 The death of the middle class in NC? A new study shows it's a reality.
Image Source: Flickr User DonkeyHotey
If you live in Greensboro, North Carolina and have only a high school diploma, you might find life hard. But you're not the only one feeling this way – a new study proves that upward mobility rates in the Triad are among the worst in the nation, and unless you have a college degree, you may suffer economically. Here's a look at this new study and what it means for Greensboro NC consumers.
What the Study Covered and Who Crunched the Numbers
The "State of the South" study was developed by Durham nonprofit Manpower Development Corporation (MDC), a prominent research center. MDC sought to examine economic mobility – i.e., how you move up and down the economic ladder – as well as educational opportunities in our state. The purpose of the study was to determine which demographic groups in North Carolina are able to advance successfully into greater opportunities. The study is troubling when you compare NC to the rest of the US.
David Dodson, president of MDC said, "This study advances national research that has drawn attention to troubling economic and educational realities in North Carolina… [and] the report identifies serious challenges for the state's long-term economic health...." The bottom line of the study is that too many Greensboro NC residents don't have the education to get the jobs they need to support their families. That's troubling.
Top Findings From the MDC Study
Here are some fast facts from this revealing study about Greensboro, NC and other North Carolina communities:
31% of those in NC with only a high school diploma live in poverty.
Only 5% of those with a Bachelor's degree live in poverty.
22 areas of NC, including Greensboro, fall within the bottom 25% of the US for upward mobility.
Greensboro falls within the bottom 10% of the entire US for upward mobility.
African-Americans and Latinos are far more likely to live in poverty than other ethnicities.
A wage of $21 an hour is required to support one parent and one child in NC, but only 26% of full-time jobs in our state offer that wage or greater.
Most children in NC born into low-income families will never attain middle-class status.
What Can Be Done to Improve Your Odds of Upward Mobility?
The American dream is to have a job that allows you to work hard and support your family. Most people want to be able to own a home, a reliable vehicle, and live outside the shadow of poverty and want. However, for far too many residents of Greensboro and the rest of North Carolina, these goals are not obtainable. Education is the lynchpin to this achievement. 
Completing high school and obtaining a college degree are measures that can vastly improve your chances of economic stability and upward mobility. However, it can be difficult to achieve these dreams, particularly if you grew up in a home where your parents didn't attend college and are stuck in low-income jobs.
How Can Ditching Debt Help Your Upward Mobility?
If you're struggling, living paycheck to paycheck, and want to improve your financial standing but are weighed down by unmanageable debt, bankruptcy may be the answer to give you a fresh start. If you want to finish (or start) college to improve your career opportunities, but your debt is an obstacle, Chapter 7 bankruptcy can wipe your slate clean ASAP so you can go to school without consumer debt hanging over your head.
To find out more about shedding debt and getting the financial peace of mind you deserve, contact the Law Offices of John T. Orcutt. Call +1-919-646-2654 now for a free consultation in Raleigh, Durham, Fayetteville, Wilson, Greensboro, Garner or Wilmington. Don't wait – get out of debt today.
Resources