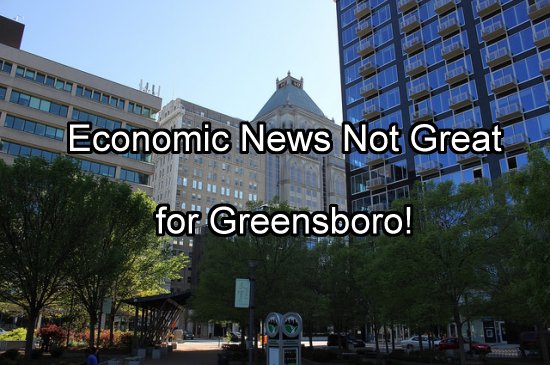 New economic report shows trouble for Greensboro economy
Image Source: Flickr CC User Nicolas Henderson
If you live in Greensboro, North Carolina and are struggling with unemployment, you're not alone. Our state at large has been enjoying an economic boom, but many areas of NC have not been yet benefited from the recovery, particularly Greensboro, Burlington, Goldsboro, New Burn, Hickory, Rocky Mount and some rural regions, according to a recent report.
North Carolina State University economic expert Michael Walden issues a twice-yearly look at NC's economic progress, and the findings in his recently issued report are grim for certain areas of the state. His research found the recent post-recession growth has triggered greater income inequality in some areas, and while the low and high end of the pay scales have grown, this growth has evaded the middle class.
Some Segments Have Stunning Job Growth
High-income jobs like business services and other white collar professions saw major growth, and low-income jobs including retail, transportation, hospitality and food services grew almost as much as these top tier jobs. In addition to the disparity by job category that has impacted Greensboro consumers, there are also regional disparities in economic recovery.
Walden found that Charlotte and Raleigh have seen employment growth of more than 20% over the past few years and terms them "in a class of their own" because they've outstripped the rest of North Carolina with their stellar progress. Second – with roughly 10% in job growth – were Asheville, Durham and Wilmington.
Some People Have Given up on Finding a Job
In his recent report, Walden also called attention to how improving unemployment numbers in Greensboro, North Carolina might be misleading. Current projections show that unemployment in the state will drop to less than 4.5% within the next year, but that doesn't mean that North Carolinians are fully employed. In fact, this could be a grim omen.
Walden estimates that 250,000 people in the state have either given up on their job search and resigned themselves to joblessness or are underemployed and not able to find full-time work. All of these situations cause people to fall off the unemployment rolls, which makes the numbers seem artificially low.
How Bankruptcy Helps Those Hit Hard by Unemployment
If you've lost your job and have watched your bills pile up until they are unaffordable and wrecking your credit, you're not alone. But bankruptcy can help you get a clean slate. And if you've just found a new job, now is a great time to wipe out the old debt that accumulated while you were unemployed, as the bankruptcy court looks at your last six months of income when deciding if you can file Chapter 7 bankruptcy. Chapter 7 is the most sweeping type of debt relief and can discharge medical bills and credit cards.
To find out more, come in for a free Greensboro, North Carolina bankruptcy consultation.
Contact the Law Offices of John T. Orcutt today for a no-charge, no-obligation bankruptcy consultation. We have a location in Greensboro, North Carolina to serve you. Call +1-919-646-2654 now for a free NC bankruptcy consultation at one of our offices in Raleigh, Durham, Fayetteville, Wilson, Greensboro, Garner or Wilmington.