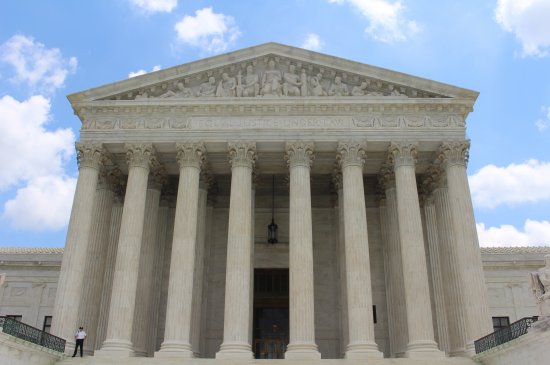 Do you have to go to court if you file bankruptcy?
Image Source: Claire Anderson on Unsplash
One of the common questions new clients ask when they come in for their initial bankruptcy consultation is about going to court. The idea of going to court makes some people nervous. In fact, court appearances are few for the typical bankruptcy case and are nothing to cause concern. When you're behind on your bills, dealing with debt collector calls, living paycheck to paycheck, or facing bankruptcy or foreclosure, life is already stressful. Bankruptcy is a solution – not a problem.
Chapter 7 Bankruptcy Is Fast and Low-Stress 
Start to finish, Chapter 7 bankruptcy takes just a few months and can usually be started in a single appointment. You might never even lay eyes on the judge in your case, but you will meet the Trustee assigned to your Chapter 7. But for the most part, you will deal with your bankruptcy attorney more than anyone else. When you go in for your initial bankruptcy consultation, you provide financial information and documents to your attorney, and they prepare the paperwork.
Your petition will be filed electronically with the court, and not even your lawyer has to go to court to file it. A few weeks later, there is the 341 Meeting of Creditors that you are required to attend. However, this is not in a courtroom, and there is no judge present. Your bankruptcy Trustee will be there and so will your lawyer, and it's usually held in a conference room or small office at the courthouse, but it's usually quick and not something to cause stress.
You must also complete a pre-filing bankruptcy debtor education course and then a post-filing credit counseling course. These don't take long to complete and can be done online. From there, any court meetings required can be completed by your attorney, and you need not be present. Two months after that, your bankruptcy case should be completed and your debts discharged with no court appearances. Plus, your anxiety should decrease after your case is filed once debt collectors stop calling.
Chapter 13 Bankruptcy Takes Three to Five Years 
As with Chapter 7 bankruptcy, there is only one time you should have to go to the courthouse related to your Chapter 13 bankruptcy case. You start the process at your bankruptcy attorney's office with paperwork and then a pre-bankruptcy debtor education course. A few weeks later is your one visit to the courthouse when you attend your 341 Meeting of Creditors with your lawyer. It's not optional for you to attend this session and you may have to answer a few questions, but that's it.
Because Chapter 13 is a debt repayment plan, the court must approve the plan proposed by your lawyer and reviewed and endorsed by your Trustee. This is called the confirmation hearing but your attorney attends the meeting on your behalf, and you don't have to attend. Depending on the length and complexity of your bankruptcy case, there might be additional hearings before all is said and done. If your circumstances change and you need a change to your plan, another hearing may be required.
Again, with any hearings to modify your repayment plan based on changes in your income, marital status, etc., your lawyer will attend these hearings with the Trustee and judge, and you don't have to go. You will have to complete the post-filing credit counseling course at some point before your repayment plan is done or else you won't get your discharge. But again, that can be done from home and doesn't require you to go to your lawyer's office – or the courthouse.
If anxiety over going to court is holding you back from using bankruptcy to ease your debt dilemma, don't sweat it. You should be able to complete a bankruptcy case without ever laying eyes on a judge or walking into a courtroom. To find out more, contact the Law Offices of John T. Orcutt. Call +1-919-646-2654 now for a free North Carolina bankruptcy consultation at one of our convenient locations in Raleigh, Durham, Fayetteville, Wilson, Greensboro, Garner or Wilmington. Also, check out reviews from our satisfied clients.