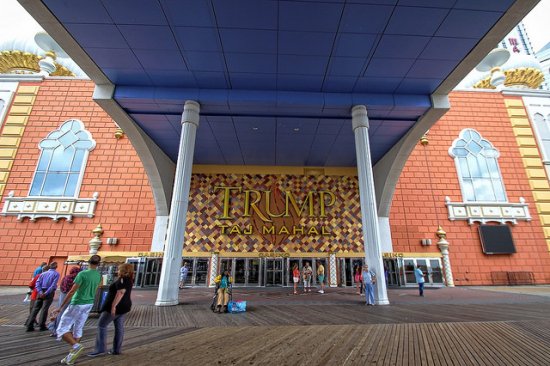 Trump Taj Mahal survived bankruptcy
Image Source: Flickr User Forsaken Fotos
Love him or hate him, Donald Trump generates considerable attention as a presidential candidate. Over the summer, one of the criticisms Trump faced was that he filed bankruptcy. Trump hit back hard at his critics and tweeted "Stop saying I went bankrupt. I never went bankrupt but like many great business people have used the laws to corporate advantage – smart!" Trump is calling attention here to the fact that he never filed personal bankruptcy, but he has filed business bankruptcy a whopping four times. But, to be clear, filing personal bankruptcy is also absolutely legitimate. Here's a look at how Donald Trump used bankruptcy laws to his benefit and why there's no shame in his financial game.
Trump Has Filed Chapter 11 Four Times
Chapter 11 bankruptcy is a debt reorganization filing that gives the business more time to catch up on debts and to barter for lower interest rates or more favorable repayment terms. In contrast, a business Chapter 7 bankruptcy is a liquidation where the corporation walks away from its debts. Here's a look at the four bankruptcies Trump filed and how these enabled him to go on to greater success.
The mega-casino built in Atlantic City was financed using junk bonds and had a high-interest rate that was common at the time. The economy and Atlantic City hit a slump, and this left Trump with $3 billion in debt and a casino opening that was less than impressive. Trump had signed a personal guarantee and, as a result, he had to sell off his yacht and an airline, and give up some ownership in the project. In return, he got a much lower interest rate and time to catch up on the debt. Trump came back from this and moved on to bigger and better things.
Trump Plaza Hotel and Casino (1992)
This was another resort in Atlantic City that was struggling with the same issues thanks to economic issues and Atlantic City experiencing a decline in popularity. The property was more than $550 million in debt. To get a better deal on interest and more time to pay, Trump turned over his interest in the casino but stayed on as a figurehead CEO to keep the company going. This allowed him to avoid a significant hit to his personal assets and get out from under the crushing debt load.
Trump Hotels and Casinos Resorts (2004)
This umbrella corporation oversaw the Trump Taj Mahal, Trump Plaza, and Trump Marina in Atlantic City plus a riverboat casino in Indiana had more than $1.8 billion in combined debt. To get out from under this third business struggle, Trump sacrificed 20% of his stock in the company that he surrendered to creditors and, in exchange, he got lower interest rates and a half-billion dollar credit line to keep the businesses afloat.
Trump Entertainment Resorts (2009)
This corporation was formed after these other bankruptcies but was struggling as a result of the big recession of the mid to late 2000s. This company ran the Trump Plaza and Taj Mahal and hit a snag when it missed a large bond repayment. To work this bankruptcy deal, Trump gave up all but a 10% share in the company and allowed the corporation to continue using his name in licensing and promotional activities.
The Bottom Line on Bankruptcy
Despite the four bankruptcies under his belt, what's obvious is that Trump's personal fortune is still sizable, he's still in business, and still considered a success. The point is, bankruptcy is a viable system created by US laws and is there for a purpose. If a person or a business is so deep in debt that they can't pay what they owe or afford to participate in the economy, they are not doing themselves or the economy any good. Opting for bankruptcy allows you to get past the debt, move on and get a fresh start that benefits you and the economy as a whole.
If you're deep in debt, bankruptcy is a reasonable option and preferable to continuing to be unable to service your debts. To see how a business or personal bankruptcy might benefit you, contact the Law Offices of John T. Orcutt for a free North Carolina bankruptcy consultation. Call +1-919-646-2654 for a free appointment at one of our offices in Raleigh, Durham, Fayetteville, Wilson, Greensboro, Garner or Wilmington.