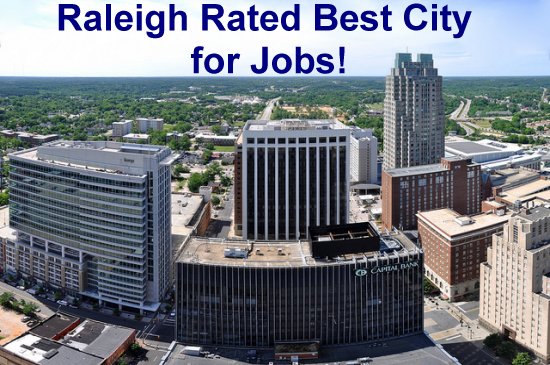 Raleigh rated best city for jobs
Image Source: Flickr User James Williamor
If you're unemployed and need a job or want a better or just a different job, you're lucky to be in North Carolina right now. And it's even better if you're in Raleigh which was just named the #1 top city for jobs by employment site Glassdoor. Raleigh, North Carolina also ranked high for job satisfaction. Here's how Raleigh compared to other major metro areas to take top honors.
How the cities were rated and compared
The Glassdoor Job Score is calculated using three factors:
Hiring opportunity – calculated by the ratio of active job openings compared to population
Cost of living – calculated by the ratio of median annual base salary to median home value
Job satisfaction – calculated based on 1,000 or more job surveys rated from 5.0 to 1.0
The highest possible score is 5.0 and Raleigh landed the top score at 4.1. The next closest city, Kansas City, Missouri, scored a 3.9. Glassdoor released the Top 25 cities in its report. By comparison, the #25 city on the list was Nashville, Tennessee scored 3.1 on the Glassdoor Job Score scale.
Factors that contributed to Raleigh's top rating
As of Glassdoor's report date, Raleigh had more than 24,000 job openings and has a median base salary of nearly $51,000 and a median home value of $198k. The job satisfaction rating for Raleigh is 3.3. The cities with the highest job satisfaction ratings were San Jose and San Francisco, California, which both scored 3.5 in this important category. But Raleigh had the best of all three factors which landed them the top spot.
Glassdoor comments on Raleigh's ranking
In the report, Glassdoor said of winning city Raleigh, NC:
"Raleigh has long held a reputation for tech companies looking to flee the expensive and congested Northeast corridor, with companies like IBM, Cisco and SAS setting up shop in North Carolina. Raleigh is also situated in the famous 'Research Triangle' and has several universities feeding skilled workers to employers. Couple this with Raleigh's walkable neighborhoods and affordable homes, it's no surprise that Raleigh stands out as the best city for jobs."
North Carolina also ranks high for entrepreneurs
Not everyone is satisfied being an employee – no matter how satisfied – and would prefer to be the boss. The good news is if you want to start a business, North Carolina is still the place to be. A recent Nerd Wallet study titled Best Places to Start a Business ranked the top 10 cities for entrepreneurial start-ups and Wilmington, North Carolina landed in second place. The only other Southern city to make the top 10 list is Greater Beaumont, Texas. Check out the infographic below for details on how Wilmington's features benefit business owners.

Nerd Wallet Infographic
Image Source: Nerd Wallet
Nerd Wallet described Wilmington, NC this way:
"A growing population, strong tourism industry and proximity to the beach make this port city ideal for businesses. Wilmington has about 15 businesses for every 100 people - the highest volume of businesses in our top 10. Nearly 900 of those businesses are downtown, including Flytrap Brewing, a craft brewery, and Fuzzy Peach, a frozen yogurt chain started by three friends who met at the University of North Carolina-Wilmington."
For those that are job searching, a poor credit score or delinquent debts can often cost you job opportunities. And for those that want to start a business, a stack of unpaid bills may be what's holding you back. To find out more about how bankruptcy offers a fresh financial start so you can better explore your opportunities in the business world, contact the law offices of John T Orcutt. Call +1-919-646-2654 to speak to a North Carolina bankruptcy expert. We offer free consultations and zero down bankruptcy specials.