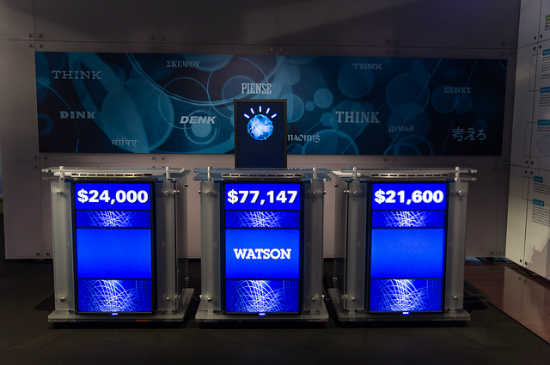 Jeopardy champ AI Watson is now practicing law
Image Source: Flickr CC User Atomic Taco
Artificial Intelligence (AI) is something we see in science fiction movies, but not usually at professional services firms. A large national law firm has recently brought in a legal AI called ROSS to work with its bankruptcy practice. Here's the scoop on this sci-fi legal news.
What Is ROSS?
ROSS is a digital legal expert, according to its website. Lawyers can ask questions, and the AI does legal research and presents results from legislation, case rulings and other sources so that the attorneys don't have to do the legwork of sifting through piles of information.
ROSS Intelligence is built on IBM Watson, a cognitive technology platform that is designed to use both natural language and machine learning that draws from unstructured data. According to IBM, 80% of data  in the world is unstructured – this includes news articles, research, social media and enterprise data.
Back in 2011, Watson beat two Jeopardy champions: Ken Jennings, the longest reigning champ, and Brad Rutter, the Jeopardy champ who had earned the most money (more than $3.25 million). Both were trounced by the AI, who outstripped them by three times the monetary earnings.
IBM has branded ROSS "the world's first artificially intelligent attorney." A press release on ROSS also said that "ROSS monitors the law around the clock" and can notify attorneys of recent court decisions that might affect their cases.
How ROSS Will Be Used by the Bankruptcy Firm
Baker & Hostetler is a global law firm with offices all across the country, employing more than 900 lawyers. Their bankruptcy practice has roughly 50 lawyers and now counts ROSS, the AI, among that number. ROSS co-founder Andrew Arruda announced that other firms have signed on to use the AI as well.
Arruda says they want ROSS on "the legal team of every lawyer in the world." That 's a pretty sweeping goal. It does seem like an intelligent machine searching legal records would be a useful tool, but only in the hands of a competent attorney.
The Benefits of a Local Bankruptcy Firm
When choosing a bankruptcy firm, genius computers aside, it's important to consider using a small to mid-sized local North Carolina firm, so you can benefit from regional expertise and local contacts. While the bankruptcy code is a Federal law, there are local statutes as well – and you must know both.
Plus, attorneys practicing solely in North Carolina are acquainted with the NC federal courts, judges, and bankruptcy trustees – and know how they practice, how they typically rule, their preferences and how to work within the local system to benefit your particular case.
In addition, using a small to mid-sized firm means there are enough lawyers to go around, but not so many that you're shuffled from lawyer to lawyer or are handed off to legal assistants like you might be if you choose a large firm. You'll receive both expertise and personal attention.
If you're considering filing bankruptcy, contact the Law Offices of John T. Orcutt. Our local attorneys are NC bankruptcy experts that will give you the time and attention you deserve and the expertise that your case requires. Call +1-919-646-2654 now for a free bankruptcy consultation at one of our convenient locations in Raleigh, Durham, Fayetteville, Wilson, Greensboro, Garner or Wilmington.
Resources: