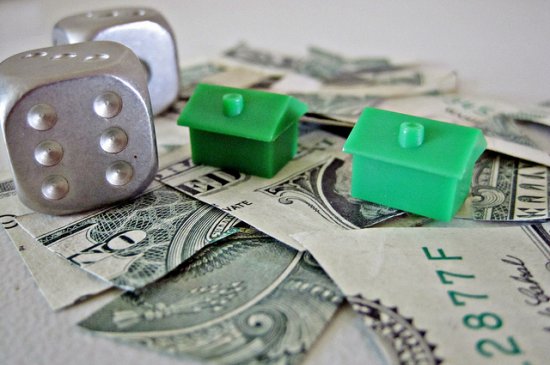 Beware the cash for homes scam
Image Source: Flickr User Images Money
If you're behind on your mortgage, you may be scrambling for a way to dig out of your debt. Unfortunately, it's at these times of greatest financial vulnerability that many scammers try and take advantage of those who can least afford to be defrauded. But it's the desperation of those in financial trouble that makes them open to claims that would, if they were thinking clearly, seem to be far too good to be true. Today we take a look at "We Buy Homes for Cash" scams and how they're damaging homeowners and pushing them towards, rather than away from, foreclosure.
We Buy Homes... Not so much!
We've all seen the signs on street corners – often there are large billboards proclaiming the message as well. Common language includes: We buy homes for cash, We buy houses, We buy houses for cash, Sell a home fast for cash, etc. The implication is that you can sell your house very fast for cash and get out from under a mortgage you can't afford. The truth is far more grisly and does not offer the out you need. Very rarely will one of these firms write you a check for your house on the spot.
How the "We buy homes" scam operates
It starts when you call the 800 number on the sign or ad. Here is how it's likely to go from there - you call and they want to come over and see the home. That makes sense, so you let them into your home. But it's at that point, the discussion of a cash offer ends. Instead, they ask you to sign over the deed to the house so they can market it and/or offer to take over payments on the home. From there, they may turn around and rent or lease the home, pocket the money and leave you stuck with the mortgage.
Alternately, the company may tell you that they can auction the house for a price that will give you cash in your pocket while letting you out from under the mortgage. They will ask you money for fees or advertising for the auction, you pay up, and then you never see the person again. A third iteration of this scam is that the buyer seems to really want your home, you sign a contract, and then they go try and get financed to buy the home. This can take 30-45 days and if they can't get the loan, they fall back on loophole language they included in the contract and just walk away.
How to protect yourself from home-buying scams
If you want to sell your home because you can't afford the mortgage, that's fine, but don't engage in a dialog with someone who cannot prove they can buy the home. Ask to see a pre-approval letter from a mortgage lender or bank statements showing they have the cash to buy it if they are offering a cash buy. If they can't prove their capability to buy the property, end the conversation with them and move on – don't fall for any other quick talking they do about how they don't have the money now, but can get it later. That just opens the door for you to be taken advantage of by a scammer.
How to get rid of an unaffordable mortgage
If you have equity in the home, but can't afford the payments, a short sale may be a better bet and you can work with a realtor that specializes in selling distressed homes. In this case, it's best to speak to your mortgage company and keep them in the loop. In most cases, your lender will prefer a short sale over you defaulting on the property and going into foreclosure and they may even be negotiable to help move the sale along. Alternately, they may be willing to refinance at a lower interest rate to make your payments more affordable rather than deal with foreclosure.
If you do not have equity in your home or are upside down in your loan, it becomes trickier with a sale particularly if the market is low and you can't sell for enough to pay off your mortgage. In this case, filing a Chapter 7 bankruptcy and surrendering your home back to the lender may be a better route to go. Your unique financial circumstances will determine the best approach. To find out more, it's best to speak to your mortgage company first and then consider talking to a reputable bankruptcy attorney about your options and the advantages of Chapter 7 debt relief.
If you're a distressed homeowner in North Carolina and want to see if bankruptcy can help get your finances back in order, contact the Law Offices of John T. Orcutt for a free consultation today. Call +1-919-646-2654 for an appointment in Wilson, Durham, Fayetteville, Garner, Greensboro or Raleigh.