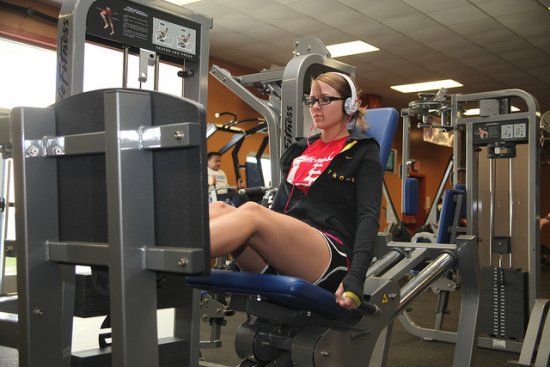 Get your body and finances in shape for the New Year
Image Source: Flickr User CherryPoint
A new year is almost upon us and you might be thinking about resolutions for 2017. This is the time when people pledge to work out more, lose weight, eat better, learn something new and, most importantly, get their financial house in order. Are you one of those that makes (and inevitably breaks) resolutions? Here is a look at some fun facts about New Year's resolutions and some to consider to have a better 2017. 
Top 10 New Year's Resolutions
Static Brain does an annual survey on resolutions and they recently published their results for last year as we prepare for the coming new year. A little less than half of Americans make resolutions, yet only 8% stick to them. The survey found that more people in their 20s achieve their resolutions and once you're past 50, your odds of fulfilling your resolutions is slimmer.
What's also interesting are the goals people set. According to the Static Brain survey, the top 10 resolutions made for New Year's 2015 include:
Lose weight
Improve organization
Save money and spend less
Enjoy life
Improve health
Learn something new
Stop smoking
Help others
Find romance
Spend time with family
Financial Goals to Consider for 2017
If you want to have more stable finances in the new year, you may want to consider setting some resolutions. Here are the first five of 10 financial resolutions to consider. Check out part two on Friday to see the other five goals to consider.
#1 Adjust your income tax withholdings
If you get a big income tax refund check each year, that's not a good thing. A big refund check means you were loaning the government money all year long. Ideally, if you adjust your withholdings from your paycheck so you don't get a refund, that's your money – you should keep it.
#2 Avoid debt spending
When you swipe your credit card and you can't afford to pay the bill in full that month, you're borrowing to buy whatever it is and that means you are debt spending. You'll pay interest on that item making it costlier in the long run. Unless it's an emergency, don't rack up debt.
#3 Revamp your student loan payments
Are you struggling to pay your bills because your student loans are too high? Consider an adjustment to your payments through an income-based repayment plan offered for federal student loans. This can leave you more money to pay your other bills or to apply to savings.
#4 Refinance your loans
If you can refinance your home or auto loan at a lower interest rate, it may be a good way to pay less and free up some money. Check to make sure any loan fees or closing costs won't eat up the savings you'll achieve. This can be money in your pocket with little effort on your part.
#5 Improve your credit score
Improving your credit score can keep more money in your pocket because many expenses are tied to your FICO calculation. A higher score can get you discounted car insurance, certain utilities, and qualify you for better interest rates on other products. All that is money saved.
A Debt-Free 2017 Is Possible
Are you living paycheck to paycheck, struggling to save, and dealing with debt collectors? Are your credit cards maxed out and you're not sure how to dig your way out of debt? Are you facing foreclosure of your home or repossession of your vehicle?
If you can't afford your bills, contact the Law Offices of John T. Orcutt for a free North Carolina bankruptcy consultation today. Call +1-919-646-2654 now for a free appointment at one of our locations in Raleigh, Durham, Fayetteville, Wilson, Greensboro, Garner or Wilmington.
Resources: