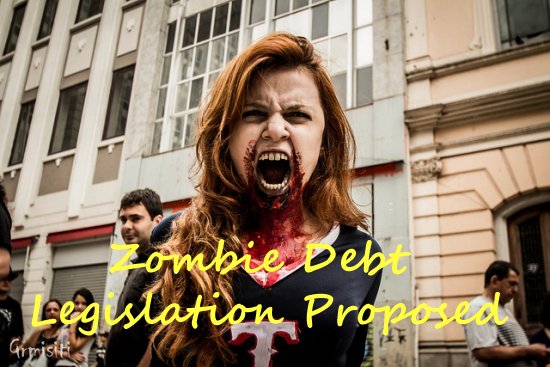 Zombie debt legislation proposed in the Senate
Image Source: Flickr User Gianluca Ramalho Misiti
We wrote recently about how many creditors allow (or actively encourage) zombie debt to languish on consumer credit reports. "Zombie debt" is old debt discharged as part of a Chapter 7 or Chapter 13 bankruptcy that continues to be reported as past due and owing on credit reports and causes consumer credit scores to be lower than they should. Lower FICO scores can result in being declined for credit, offered costlier credit arrangements or being turned down for a job or housing. A new law would allow consumers to strike back at these often untouchable creditors for damage caused by misreporting.
How the legislation would help consumers
Senate Bill 1733 is titled "Consumer Reporting Fairness Act of 2015" and is sponsored by Democratic Senator Sherrod Brown from Ohio and co-sponsored by Senators Jeff Merkley (D-OR), Richard Blumenthal (D-CT), Richard Durbin (D-IL) and Al Franken (D-MN). The law, if it gains passage, would require creditors to inform credit agencies of accounts that have been discharged in bankruptcy and should reflect a zero balance.
If creditors fail to comply with this law and a consumer is damaged by a creditor's "willful violation" of the law, they can sue for:
Actual damages including costs of the suit and attorney's fees
Punitive damages in appropriate circumstances
The law also carves out reporting for a mortgage that survives the bankruptcy filing "whether or not the debtor has reaffirmed that loan." When announcing the proposed legislation, bill sponsor Brown said, "During the financial crisis, more than 50 million people saw their credit scores fall due to foreclosures and financial hardships. Many turned to bankruptcy but are still haunted by debt on their credit report that they no longer owe. This bill would ensure that debts prior to bankruptcy aren't in effect double counted and don't continue to make it difficult for consumers to get a job or secure a loan for a home."
What the current laws require
Although federal law already requires creditors to notify credit agencies when debts are discharged in bankruptcy, there is no recourse under the law if they do not do so. Bank of America and JPMorgan Chase have been the subject of recent lawsuits because of their mishandling of zombie debt. These banks recently negotiated a deal to end the litigation by removing the debt from consumer credit reports.
The banks were accused of leaving the debt on credit reports so they could sell the discharged debt to third party collectors for a profit. Third party collectors then pursued and sued debtors who often paid to put an end to the harassment and to clear up their credit reports. Chase also agreed to pay $136 million as part of the agreement and to change its debt collection and reporting methodology.
In addition to Bank of America and JPMorgan Chase, the US Department of Justice is investigating other major creditors including Citigroup and Synchrony (GE Capital) for violating the law on reporting discharged debt to credit agencies. Chase and Bank of America alone have reportedly affected more than one million consumers with their dodgy zombie debt reporting shenanigans. This law would offer enhanced consumer protections. Consider contacting your Senators to encourage them to support S 1773 (www.senate.gov/senators/contact/).
If you are overwhelmed with debt that you can't afford to pay, Chapter 7 and Chapter 13 bankruptcy can offer you the debt relief you need to get a fresh financial start. In North Carolina, contact the Law Offices of John T. Orcutt for a free bankruptcy consultation today. Call +1-919-646-2654 to see us in Raleigh, Greensboro, Fayetteville, Garner, Wilson or Durham.
Source: