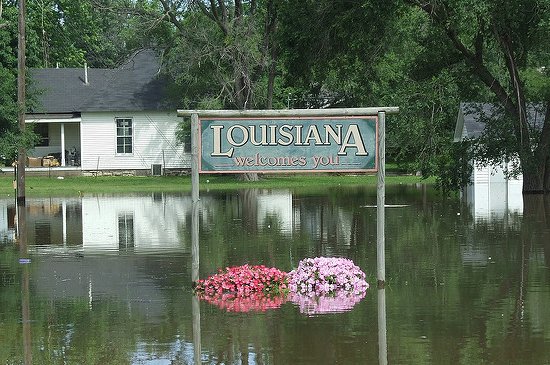 Louisiana floods could bring out the scammers
Image Source: Flickr CC User eagle102.net
It seems like any time there is a natural disaster, there are scammers ready to play on the sympathies of the public. In today's consumer alert, we share a warning from North Carolina Attorney General Roy Cooper about scams posing as charities in response to the recent Louisiana flood.
Disasters Bring Scammers out of the Woodwork
Although there are genuine charities, both existing and new, that become active when there's a disaster, there are also plenty of scammers that leverage sad events to profit illegally. We saw this with the tsunamis in Asia, with Hurricane Katrina, and with the earthquake in Haiti.
AG Cooper advises North Carolina consumers to avoid replying to texts, emails and social media posts from unknown sources, particularly those asking for your credit card information. Random electronic communications are one of the preferred methods of scam artists.
Charity Scams Can Crop up Anywhere
In addition to ignoring unsolicited emails and texts, be cautious about phone calls. If you're contacted by a telemarketer who says they're seeking donations for the Louisiana floods (or other disasters), you should NOT give your credit card or banking info out over the phone.
Even if the charity is actually giving money to the disaster victims, Attorney General Cooper warns that some dodgy organizations will keep the lions' share of the money and only give 10% or less to the people they claim to be helping. If you ask what percentage of the funds go to the victims, they can easily lie to you.
You might also see charitable efforts on crowdfunding sites like GoFundMe and Kickstarter. However, these websites don't thoroughly check such programs to verify their authenticity. There is no guarantee of the legitimacy of the efforts you're donating too.
Check Things out before You Give
Natural disasters tug at our heartstrings, and it's natural that you want to help, but you should ensure you are giving money where it will make a difference. Before you give to any charity, check them out on CharityNavigator(dot)org.
Also, remember that even if the charity itself turns out to be legitimate, the caller who gives that charity name may be fibbing about who they're collecting for and where the money will go. Hang up on dodgy phone calls and go directly to the charity's website so that you can make your donation personally, with no middle man.
Many telemarketing services also keep a cut of the money they raise, so your $1 may wind up being 10-15₵ by the time they're done taking out their share.
Pay Securely and Protect Your Information
In some cases, charity fundraising calls may not be to raise money but to phish for personal information to use for identity theft and other purposes. Any charity phone call, even one that sounds completely legitimate, may not be trustworthy. You also shouldn't click on links in emails that make charitable appeals. These can send you to fake sites.
Paying by check or credit card directly to the charity itself will help protect you and ensure you get the tax credit you deserve. Plus, if you pay via credit card and it's a scam, you can file a dispute for the payment to fight back.
Give from the Heart, but do so Wisely
Scam artists will take advantage of your sympathy for those hard hit by disasters. Don't let the pull on your emotions make you foolish about protecting your finances or personal information. The fact that someone claims to be from a charity shouldn't make you throw common sense out the window.
If you have been scammed, be sure to report it to Attorney General Roy Cooper by filing a report at www(dot)ncoj(dot)gov. Don't let scam artists get away with it. Even if you didn't fall for the scam, but got a name and phone number, that's worth reporting to the AG's office.
If you're a North Carolina consumer stuck deep in debt you can't afford to pay, contact the Law Offices of John T. Orcutt. Call +1-919-646-2654 now for a free NC bankruptcy consultation at one of our convenient locations in Raleigh, Durham, Fayetteville, Wilson, Greensboro, Garner or Wilmington.