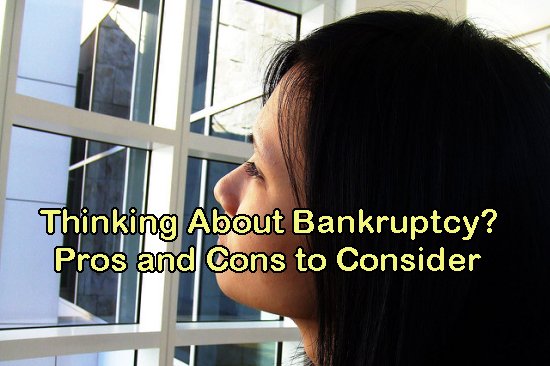 Thinking about Wilmington bankruptcy? Pros and cons to help you decide
Image Source: Flickr User saturnism
For those Wilmington consumers deep in debt, bankruptcy is one option to consider if you've exhausted other routes and can't find a way out of your financial mess. Most serious financial problems come from a life event such as divorce, illness or accident, unemployment or some other unforeseeable circumstance that increases expenses, decreases income, or both. If you can't afford your debt, Chapter 7 might be the best option for your Wilmington bankruptcy. Here's a look at the pros and cons.
Con: Filing Bankruptcy Will Lower Your Credit Score
It is true that bankruptcy will temporarily drop your credit score when you file. However, if you're already deep in debt, your credit cards are maxed out, you're missing payments or making them late, your credit score is already dropping every month. In truth, filing bankruptcy can stop a credit score free fall and give you the chance to start re-establishing credit.
Pro: You Can be Debt-Free in Just a Few Months
From start to finish, Wilmington bankruptcy can take just three or four months, on average. By contrast, Chapter 13 bankruptcy takes three to five years. Without bankruptcy, if you're in over your head with debt, you might struggle under the load for years to come, with little to show for your effort. The faster you choose to file bankruptcy, the sooner you can be rid of most of your unsecured debt.
Con: Your Credit Card Accounts Will Be Closed
Once you file bankruptcy, your creditors are notified, and it will reflect on your credit report. Even if you have a credit card that isn't maxed out, it will close after you file Chapter 7 Wilmington bankruptcy. You can't hold back any cards by leaving them off your bankruptcy petition. However, within six months (on average) after your discharge, you can begin applying for new credit.
Pro: Bankruptcy Exemptions Help Protect Your Assets
In North Carolina, bankruptcy exemptions can help you protect most of your assets. Your car can generally be shielded unless it's a luxury vehicle with lots of equity. Up to $35k of equity in your home can be protected in an individual bankruptcy and $70k if you file Wilmington bankruptcy as a couple. Some cash in the bank can be shielded, and there's a $5k "wildcard" exemption that can shield any asset.
Con: Not All Debt Can Be Extinguished in Chapter 7 Bankruptcy
There are some types of debt that can't be wiped out with Chapter 7. Only in rare cases can student loans be wiped out in bankruptcy. Secured debt like a mortgage or auto loan can't be discharged unless you give back the asset through repossession or foreclosure, thus converting it to unsecured debt. But most unsecured debt, including credit card, medical bills, and some income taxes, can be wiped out.
Pro: Chapter 7 Bankruptcy Stops Debt Collectors for Good
Debt collection must stop, by law, as soon as your Wilmington bankruptcy attorney files your Chapter 7 case petition. That means the stress of dealing with debt collectors hounding you at work and home. Debt stress can wreck your quality of life, ruin relationships, and cause you problems at work. After you file bankruptcy, you can move on with your life without the debt and look forward to a brighter future.
There are pros and cons to each bankruptcy that are unique to every individual circumstance. The best way to find out if Chapter 7 is a fit for you is to contact a reputable Wilmington bankruptcy attorney to discuss your financial situation. The initial consultation should be free, and you can bring in your financial documents and discuss your options and get advice on your best path forward.
To find out more about the benefits of bankruptcy, contact the Law Offices of John T. Orcutt. Call +1-919-646-2654 now for a free Wilmington bankruptcy consultation at one of our locations in Raleigh, Durham, Fayetteville, Wilson, Greensboro, Garner or Wilmington.