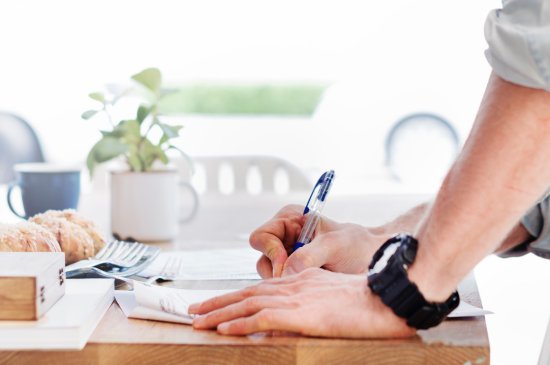 Should you sign a reaffirmation agreement with your Greensboro bankruptcy?
Image via rawpixel.com on Unsplash
When you choose Greensboro bankruptcy, the intent is to get control of unmanageable debt. When you choose Chapter 7, you can wipe out most (if not all) of your unsecured debts including credit cards, medical bills, personal loans not secured by collateral, certain older income tax debts, and more. But with secured debt, the rules are different. To keep the asset, you must keep the debt. In some cases, the lender might ask you to sign a reaffirmation agreement on your auto loan or mortgage. This is something to consider carefully because it carves that debt out of the bankruptcy and means it will outlast your debt discharge. Here's what you should know about reaffirmation agreements.
#1 The Court Must Approve Your Reaffirmation Agreement 
A reaffirmation agreement is a document that says you are taking personal responsibility for the debt and acknowledge that it will not be part of your Chapter 7 bankruptcy case. Bankruptcy filers usually want to execute this agreement so they can keep the asset, such as the auto or home.
But it's not entirely up to you. You can work out a deal with your lender, but the Greensboro bankruptcy judge and Trustee will decide if you get to sign the agreement. The judge decides if the agreement is in your best interests and whether you can afford the financing arrangement under the agreement.
#2 You Must Be Current on Your Loan Payments to Qualify 
In addition to having the court's approval for the reaffirmation agreement, you must be in a financial position to support the terms of the agreement. First off, you must be current on your payments. If you haven't missed any of your car payments, that's a good starting point for a reaffirmation.
The same goes for your mortgage. You can't be behind on your payments, or a reaffirmation will not be possible. The court must see that you have no past-due balances to clear up and that you have the income to support ongoing payments on these debts.
#3 You Don't Have to Sign a Reaffirmation Agreement 
If you are current on your payments on your secured debt, you don't have to sign a reaffirmation agreement to keep it, in most cases. The lender just wants their money, and if you are making your payments, they have no reason to repossess or foreclose on the asset.
Other important factors are keeping up with insurance on the asset, as this is required in the terms and conditions of your finance agreement. With your home, you must also keep up on your property taxes or else the lender can foreclose. Otherwise, a reaffirmation may not be needed to keep the asset.
#4 Signing Puts You at Risk for Future Legal Action 
One of the downsides to signing a reaffirmation agreement is that you lose the protection that bankruptcy offers. When your attorney files your bankruptcy petition, most of your debts fall under the case. However, by reaffirming, you carve debts out and exempt them from the case.
If you sign the agreement and then can't make the required payments, the lender can repossess or foreclose and sue you for failing to pay your debt. This can be a matter of hindsight, but signing a reaffirmation agreement strips you of protection under Greensboro bankruptcy in case the loan fails.
#5 Reaffirmation Agreements Can Help Your Credit Score
One possible benefit to signing a reaffirmation agreement is that you will get credit for the payments you make, and this can boost your credit score. If you go through bankruptcy and do not sign a reaffirmation agreement, your lender doesn't have to report your payments to the credit bureaus.
If the lender doesn't report your timely payments, your credit score won't reflect your positive credit activity. Even though this is a potential benefit, filing bankruptcy itself can stop your credit score freefall and allow you to begin rebuilding your credit after your Greensboro bankruptcy discharge.
To find out more about the benefits of bankruptcy and discuss whether you should consider a reaffirmation agreement on your asset, contact the Law Offices of John T. Orcutt. Call +1-919-646-2654 now for a free Greensboro bankruptcy consultation at one of our convenient locations in Raleigh, Durham, Fayetteville, Wilson, Greensboro, Garner or Wilmington. Be sure to read reviews from satisfied clients so you'll know what to expect.