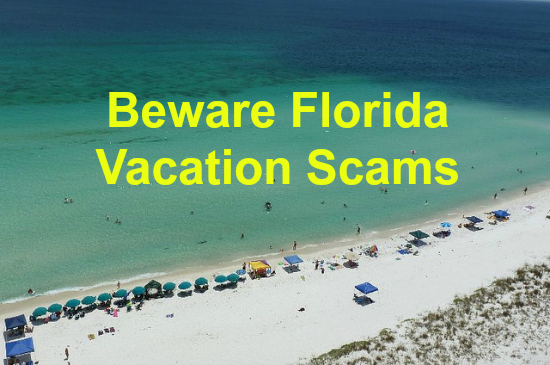 Don't fall prey to a Florida vacation scam
Image Source: Flickr User Hobbies on a Budget
Many scams seem to hit seasonally, and with summer just around the corner, it's time for vacation scams. This year, Garner, North Carolina consumers should be on the lookout for Florida vacation scams that are cropping up via email, cold calls, and fax offers. Today's scam alert can help you protect yourself.
As a result of increasing travel industry complaints, the Florida Department of Agriculture and Consumer Services recently issued an alert warning potential visitors of a vacation package scam that has become commonplace. If you're planning fun in the sun this summer, you could fall prey.
How the Scam Lures in Consumers
The scam usually kicks off with an unsolicited voice call, robocall, email or sometimes a fax. The communication offers a vacation package, often by telling you that you have "won" the package from a drawing you entered (even though you never entered a drawing) or that it's a special promotion.
You are asked to pay taxes, fees, or a guarantee deposit for the "free" Florida vacation you won. However, if you've really won a prize, Florida law prohibits charging any taxes or fees for it – you can only be charged the cost of getting the prize to you, such as postage or a delivery fee.
The big red flag is that the deal sounds too good to be true, and the caller creates a sense of urgency. They tell you there are only a limited number available, that it's a special offer, or that you must pay right then or the offer will no longer be available – anything to convince you to pay up ASAP.
What You Buy May Not Be What You Get
Sometimes you might receive nothing at all, and the money you send or the fee you're charged is gone forever unless you can get a chargeback from your credit card company. That's why it's important to pay for travel reservations using a method that allows a refund if something goes wrong.
If you do receive something, it may have far less value than you anticipated or come with costs you weren't expecting. There may be severe limitations on travel dates. or you may have to jump through additional hoops to claim your vacation. Or you may get a trip, but find the accommodations are sub-standard.
How to Protect Yourself from Florida Vacation Scams
Garner, North Carolina consumers should not waste their money on scam vacations that cheat you out of the opportunity for a much-needed break from everyday life.
To protect yourself, check out these tips:
Don't purchase a trip without checking out the travel company, unless you're dealing with a known and reputable outlet like Travelocity or Expedia.
If you're contacted by a company you've never heard of, don't give them a dime until you can verify they are a legitimate company and have no Better Business Bureau complaints.
Don't ever give your credit card or bank account information to someone who calls you – they could be anyone and can use the info for identity theft.
Ask to see the agreement or vacation contract so you can check out the fine print – before you pay a dime – and check for limitations, blackout dates, and other sketchy language.
Comparison shop online for comparable packages – you may find a deal from an established travel source for the same cost as the taxes and fees of the "free" offer.
As with anything in life, if something sounds too good to be true, you should be on high alert – particularly when you're asked to hand over your hard-earned money. If you have been taken advantage of, Garner consumers can contact the North Carolina Department of Justice for help at NCDOJ(dot)gov.
If you're deep in debt and looking for help, contact the Law Offices of John T. Orcutt for a free Garner NC bankruptcy consultation. Call +1-919-646-2654 now for a no-obligation appointment at one of our locations in Raleigh, Durham, Fayetteville, Wilson, Greensboro, Garner or Wilmington. Call now and enjoy the peace of mind that comes with being debt-free.