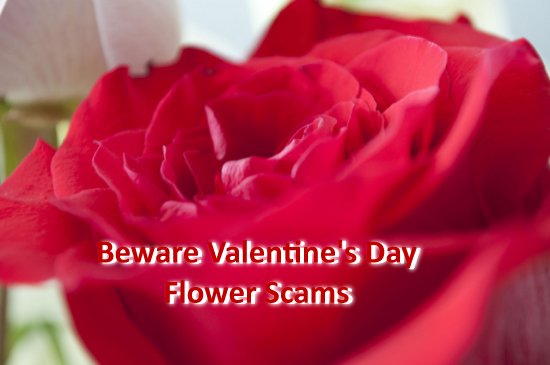 Watch out for floral scams on Valentine's Day
Image Source: Flickr User Marybeth Sclafani
Valentine's Day will be upon us soon and with the February 14th holiday comes the risk of a new fraud – and it's all about flowers. Sure, your sweetheart might like some roses for the romantic occasion, but you don't want to deal with the stink of fraud to get the blossoms. Today's consumer alert examines a new scam publicized by the Better Business Bureau of Eastern North Carolina.
Flower fraud stinks
Some consumers have reported that flowers are not showing up, are arriving wilted, or that they've been subject to additional and unauthorized credit card charges that were never disclosed or agreed to for their Valentine's Day deliveries. National sites often outsource their orders and deliveries to local florists rather than making the deliveries themselves. That means that what you see online may not be what's delivered.
There may also be spoof sites set up to take your money and not deliver as promised. Sometimes terms and conditions will ask you to unknowingly consent to additional charges that may not appear on the total when you pay at the digital checkout. And sometimes, even when you're dealing with a reputable site, the local delivery company fails to fulfill the order – particularly in this busy season.
Protect yourself from Valentine's flower scams
Below are some tips to safeguard yourself when shopping online for flowers for Valentine's Day and all year round:
#1 Verify the business – You can check out a florist or floral site on BBB.org, and Yelp is always a good place to verify the business based on consumer reviews regarding the quality and timeliness of flower deliveries. Look for specific complaints against the business and whether or the business addressed them.
#2 Look carefully at offers – Make sure that you see the accurate total of what you'll be charged. Read the fine print at the bottom of the page and on the terms and conditions of the website. Look for hidden charges or asterisks that link to small print saying your fees may be adjusted.
#3 Pay with a gift card – To protect yourself from unauthorized charges, consider paying with a VISA or other branded gift card to limit what the florist or website can charge and ensure they can't come back and hit your debit or credit card for additional fees.
#4 Scrutinize photos – Floral website photos must be taken with a grain of salt. Zoomed in shots make some arrangements look much larger than they are. Check out the descriptions to get an accurate sizing of the arrangement by inches in height and the number of blossoms that will be included.
#5 Know what you're getting – Often, photos show the arrangement in an attractive vase, but that's an upsell that can cost much more. Usually, what you see comes in just a box to get the list price, while getting it done up as it appears in the photo can cost $20-$50 or more on top of that price.
#6 Track the order – If you do buy online, carefully check out the promised delivery date – there may be fine print allowing the florist a window of time for delivery that might miss your deadline. You should also sign up for delivery confirmation and make sure you check with the recipient to ensure the flowers arrived.
#7 Consider buying locally – If your floral gift is for someone nearby, skip the florist altogether. Sam's Club and Costco both sell roses for around $15-$20 for two dozen blossoms. This is much cheaper than an online shop or local florist shop. Buy them yourself and hand deliver for huge savings, as well as a more personal touch.
If you get a bad deal from a florist, don't hesitate to let the Better Business Bureau know as well as the North Carolina Department of Justice fraud department. And be sure to leave a negative – but accurate – review of the issue on Yelp. That will help other consumers avoid similar pitfalls and let the business know that their poor practices will not go unnoticed.
These consumer alerts are provided by the Law Offices of John T. Orcutt. If you're struggling with debt and looking for a way to end debt collections and get your finances back on track, call us at +1-919-646-2654 to schedule a free North Carolina bankruptcy consultation at one of our offices in Raleigh, Durham, Fayetteville, Wilson, Greensboro, Garner or Wilmington.