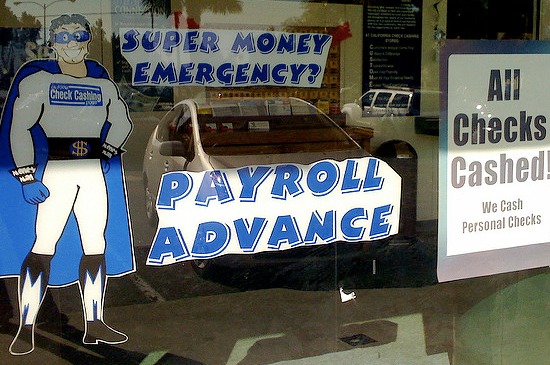 Could a federal agency open the door to payday loans in NC again?
Image Source: Flickr CC User Chika Watanabe
Payday lending is the worst sort of predatory lending and takes terrible advantage of those in need of quick cash. Did you know that payday loans can have interest rates of 300 to 800%? North Carolina's legislature wisely outlawed these types of loans, but new federal guidelines might open up a loophole that would allow them back into our state. Here's what you need to know.
North Carolina Shut Down Payday Lenders, but the Problem Continues
Attorney General Roy Cooper has worked tirelessly to outlaw payday lenders operating in storefronts in North Carolina. NC state law now caps interest rates at 16% on loans under $16k, with the exception of licensed consumer finance lenders which can charge up to 36% interest. With this law in place, AG Cooper pursued lawsuits that forced predatory lenders to shut down operations and pay back funds on loans that skirted the law. 
Internet-based payday lenders continue to make loans to North Carolina consumers, and payday and auto title pawn lenders have also set up shop up in states bordering North Carolina and lie in wait, ready to lend at exorbitant interest rates to NC consumers who travel out of state looking for a quick loan. But a new move by a federal agency could give high-interest lenders easier access to NC consumers.
How the CFPB Might Create a Loophole Letting Payday Lending Back into Our State
Attorney General Cooper said, "A payday loan may sound like the solution to someone facing unexpected bills but once you get sucked in it's difficult to escape and your debts snowball quickly. People need access to short-term emergency loans but with fair rates and more time to repay the loan."
The Consumer Financial Protection Bureau (CFPB) would agree with Cooper. This agency is tasked with protecting consumers in matters regarding financial products and services. One of their newer initiatives is to establish rulemaking that would federally regulate payday lenders and help protect consumers.
However, if the CFPB isn't cautious with the language of the new rules, they could weaken existing legislation in states like North Carolina that already have bans on payday lending. The concern is so great that representatives from different states have contacted the CFPB to ask for special consideration.
These organizations drafted and sent a letter to CFPB Director Richard Cordray that stated, "It would be unacceptable for the CFPB to issue weak payday lending rules which would likely usher in a new wave of predatory lending in non-authorizing states and throughout the country."
CFPB vs State Laws
While the CFPB is trying to do good for consumers and generally produces meaningful results, there is a potential for risk to North Carolina consumers. Because the CFPB cannot pass legislation setting interest rates, if their guidelines aren't drafted carefully, they could actually cause harm.
The concern is that new, federal CFPB guidelines will help consumers in states where these loans are still legal but open the door for the reemergence of payday lenders in North Carolina and other states where they are currently illegal thanks to strict state legislation.
If you're deep in debt and looking for financial solutions, a high-interest payday loan or car title pawn is not the way to go. Don't cross state lines or go shopping on the internet for a pricey loan. Instead, come for a free North Carolina bankruptcy consultation at the Law Offices of John T. Orcutt.
Call +1-919-646-2654 now for a free no-obligation appointment with a North Carolina bankruptcy expert at one of our locations in Raleigh, Durham, Fayetteville, Wilson, Greensboro, Garner or Wilmington.