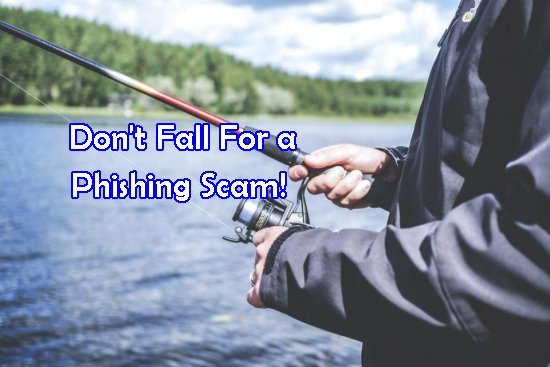 Don't fall for a phishing scam
Image Source: StockSnap.io
Scams are always churning, and it seems every day, there is new fraud hitting Wilmington, North Carolina business owners and consumers. Today, we take a look at two new types of fraud that have emerged and alerts issued by North Carolina Attorney General Josh Stein.
Business Scam: W2 Identity Theft
Wilmington, NC business owners should alert employees to a new scam that's making the rounds and targets businesses to promote identity theft. The scam is devious because it is designed to intimidate employees into complying with their demands that violate privacy.
The scam starts with an email sent to the HR or payroll department of a company with an email address that spoofs a company executive, President, or CEO – that's information that can be easily found online in most cases. The email asks for copies of W2 tax reports or other sensitive information.
If you send the info requested, you've most likely handed private information to scam artists who will use the data for theft and fraud. With a W2, a scammer can file a fake tax return with the IRS, steal the identity of employees, open new accounts, and other fraudulent activity.
Last year, more than 19,000 Wilmington and other North Carolina area residents were victimized as a result of fraud emails like this called "phishing" emails. So far this year, the Attorney General's office has reported 18 cases of W2 scams and likely more that went unreported.
How to Protect Your Business from the W2 Scam
North Carolina Attorney General Josh Stein's office offers the following tips for business owners and employees that safeguard confidential company data:
Don't respond without verification – The scammers are counting on you to hand over blindly the information. If you receive an email like this, check with the sender first.
Protect employee information – Private employee info such as social security numbers, should not be viewed casually. Ensure you protect employee data in accordance with the law.
Share information on scams – Be sure to alert employees with access to sensitive information, such as payroll and HR, about new scams so they can be aware and watch.
Report scams – If you receive a phishing email like this, contact the North Carolina Department of Justice and report the incident. Your report could help catch the perpetrator.
Consumer Scam: Netflix
Many Wilmington consumers have a Netflix account, and this is the breeding ground for the consumer scam we're covering today. This is another email-based scam hitting Wilmington and other areas of North Carolina. The scam targets Netflix customers' personal and credit card information.
The scam begins with an email that looks like it's from Netflix and says you need to update your Netflix info. They provide a link to click to take action, and when you click the link, it looks like you're going to the official Netflix site, but it's not. Just because you see the logo, doesn't mean a site is real.
The scam site requests you to update your billing information, credit card data and even your social security number. If you enter the requested data, scammers can use it to run up your credit card bill with fraudulent charges and other forms of fraud and identity theft.
Here are tips to protect yourself from consumer phishing scams:
Look closely at the email address – A legitimate email address from Netflix will be from "@netflix.com" while fake sites might be "@netflixc.om" or something similar.
Read emails carefully – Professional websites will send professional emails without spelling or grammar errors. Pay particular attention if it sounds like it was run through Google translate.
Look at the URL of the site – If you do click, look at the URL at the top window. It should be Netflix.com. The best approach is to never click on a link like this at all.
If you receive a Netflix scam email, the company asks that you forward it to phishing at netflix.com then delete the email without clicking any links or giving out any of your personal information.
See Us in Wilmington
Many scammers target those already struggling financially, and if you're deep in debt, the last thing you need is to lose money to fraud. If you're deep in debt, contact the Law Offices of John T. Orcutt for a free bankruptcy consultation by our Wilmington attorneys. Call +1-919-646-2654 now for a free appointment at one of our offices in Raleigh, Durham, Fayetteville, Wilson, Greensboro, Garner or Wilmington.
Resources:
Guidelines on protecting employee social security number