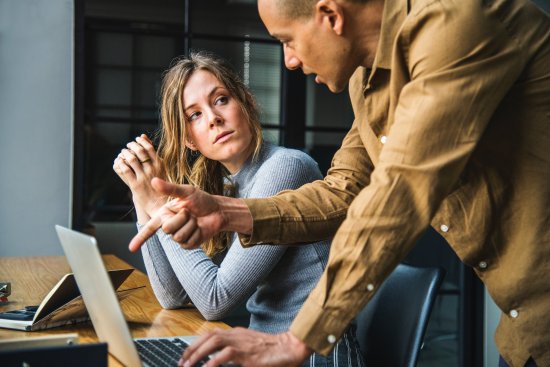 Does your job offer student loan benefits?
Image via Unsplash
The job market in America is booming. With a better job market, employers are now competing to attract top talent, and one of the tools in their recruiting arsenal may be student loan-related benefits. Even with plenty of jobs open, student loans continue to be a growing problem with no end in sight for more than 44 million people in the US who owe more than $1.5 trillion in college debt. Here's some info on looking for benefits from your employer to fight this burden.
Public Service Loan Forgiveness (PSLF)
Until recently, PSLF was one of the few employer-related programs to combat student loans. It remains a preferable option to consider, particularly if you already have an interest in working for the public. There's a wide array of jobs and careers that can qualify you for PSLF. The military is just one option, but civilians that work for the government may qualify as well.
Those who work in emergency response, 911, firefighters, police, and other similar organizations may qualify. Some charitable organizations, PeaceCorps, and the like may also qualify you for Public Service Loan Forgiveness. The program allows you to make qualifying payments under an income-driven (IDR) plan like PAYE or REPAYE for 10 years then see the rest of the debt forgiven tax-free.
Student Loan Repayment Benefit
The programs may vary by employer, but the general name for this benefit is "Student Loan Repayment Benefit" or "Student Loan Repayment Assistance." Currently, about 4% of US companies offer benefits like these. When you consider companies with more than 40,000 employees, that number vaults to 8%.
With unemployment rates lower than they've been since the year 2000, employers are using benefits like these to entice workers. Millennials are rapidly becoming the largest part of the workforce, and the majority of those with degrees have student loan debt.
Beyond this demographic, employees up into their 40s still carry student loans in some cases. The programs allow employers to contribute directly towards student loans. Some of the pluses for employers that offer this benefit include:
Shorten time to hire
Attract and retain top talent
Become an employer of choice
Generate goodwill and brand enhancement
For employees who can secure a job with student loan repayment assistance, the benefits can include greater job satisfaction, lower workplace stress, improved quality of life, and greater financial opportunities.
A study by non-profit American Student Assistance (ASA) showed that 90% of workers would make a five-year deal to stick with an employer that offered a student loan benefit. Most younger workers delay 401(k) participation due to student loans and most report being distracted at work because of their debt.
Faster Loan Repayment
Not only that, but ASA's data gathered from student loan debtors reveals that 65% of the surveyed employees would consider taking on a second job to help conquer their student loans. Most companies don't want their staff distracted like this.
The Society for Human Resource Management says that "many employers are targeting a $100-a-month contribution." The extra $100 a month can help significantly over the 10-year repayment period by saving $11k in principal and interest to get out of debt two years faster.
That's a meaningful contribution and can make a world of difference in the repayment process. If you're struggling with student loans while job hunting, ask about this benefit as part of your process when evaluating potential employers.
Other Student Loan Solutions
For those who simply cannot afford their student loans, other options include pursuing an income-driven repayment plan like PAYE or REPAYE that lowers your payments to a reasonable percentage of disposable income with a 20-25 year repayment term and forgiveness of balances after that.
As a short-term, stop-gap measure while you're unemployed or recovering from an accident or illness, deferment or forbearance can be helpful with an IDR plan in place once you're back to work. Finally, for those struggling with student loans and other debt issues, bankruptcy may be a workable solution.
To find out more about student loans and bankruptcy, contact the Law Offices of John T. Orcutt. Read reviews from our clients, then call +1-919-646-2654 to schedule a student loan bankrutpcy consultation at one of our locations in Raleigh, Durham, Fayetteville, Wilson, Greensboro, Garner or Wilmington.
Resources: