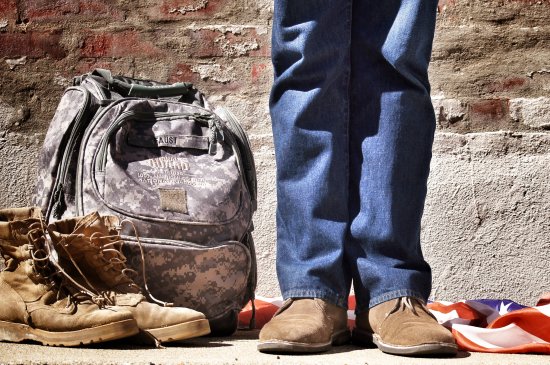 Student loan help for veterans and the disabled is now tax-free
Image by Benjamin Faust via Unsplash
With student loans continuing to rise and federal college debt having no statute of limitations, this is debt that can follow you the rest of your life. Student loan debt collectors can garnish your Social Security and take your income tax refunds for the rest of your life until the debt is satisfied. If you can't afford your student loans, the stress can be overwhelming. If you qualify for a program to reduce or discharge your student loans, it can be life-changing.
However, it's important to know that many forms of student loan debt relief come with tax consequences, except for bankruptcy discharge and certain Public Service Loan Forgiveness (PSLF) plans. What this means is that the amount of your student loan debt that's forgiven is treated as taxable income. In effect, if you see $30k of college debt relieved, then your taxable income for that year increases by $30k, and this can mean thousands of dollars of additional income taxes.
A new program will help some North Carolina consumers saddled with unmanageable student loan debt to achieve relief on the debt without incurring associated income tax penalties.  
Student Loans by the Numbers
Student loan debt has been on the rise for decades. As of June 2016, the Federal Reserve reported that student loan debt topped $1.36 trillion. This staggering number, coupled with the fact that federal student loans are not subject to the statutes of limitation means this significant debt can be inescapable.
In some cases, federal student loans are dischargeable via appeal to your loan servicer under a Borrower Defense to Repayment application. This is open to students who were defrauded or misled by their college or whose ollege closed, and certain circumstances were met such as the inability to graduate or transfer records.
Aside from this plan, another program applies to certain borrowers under a disability or death discharge program. As of this year, those who qualify for student loan relief under Death and Disability Discharge will also receive income tax relief for their discharged debt for any loans forgiven after December 31, 2017.
Eligibility for Disability and Death Discharge
This federal student loan program is primarily open to borrowers with an illness or injury that meets the following conditions:
Your illness or injury that is expected to cause death; or
Your illness or injury has lasted or is expected to last continually for five years or longer.
There are three ways to prove that you qualify for this type of discharge:
1 - Show that you are a veteran that the Department of Veteran Affairs has determined you unemployable due to a service-related disability. If you meet this requirement, you can get student loan discharge plus the refund of student loan payments made after the effective date of your VA disability certification.
2 – Show that you are receiving Social Security Disability Insurance (SSDI) or Supplemental Security Income (SSI) benefits and that your next disability review is five to seven years from your eligibility determination.
3 – Show physician verification that you are totally and permanently disabled and submit the request for relief within 90 days of the physician signing the certification form.
The Department of Education and the Social Security Administration are working together to proactively contact more than 387,000 borrowers with disabilities that collectively owe nearly $8 billion in federal loans that should qualify for this tax-free debt discharge.  
Bankruptcy For Student Loans
If you are not eligible for relief under the new federal laws, you can also explore other options to deal with student debt. In some cases, you might qualify for debt discharge through a bankruptcy process called an Adversary Proceeding where you sue your student loan lender for partial or total relief. Any student loan debt relief achieved in bankruptcy also comes with no income tax penalty.
If your student loans are unmanageable, speak to a local bankruptcy attorney with expertise in and a track record of success with bankruptcy discharge of student loans to find out if you qualify and what you can due to lessen your school debt using bankruptcy.
Even if you don't qualify for student loan relief in bankruptcy, reducing or eliminating other debt under the law can create room in your budget to help you better pay your college debt. If you can discharge other debts and get your student loans on an income-based repayment plan, your financial situation may improve significantly.
To find out more about the benefits of bankruptcy for your student loans and other debt, contact the Law Offices of John T. Orcutt. Read reviews from satisfied clients then call +1-919-646-2654 to schedule a free North Carolina bankruptcy consultation at one of our convenient locations in Raleigh, Durham, Fayetteville, Wilson, Greensboro, Garner or Wilmington.
Resources: