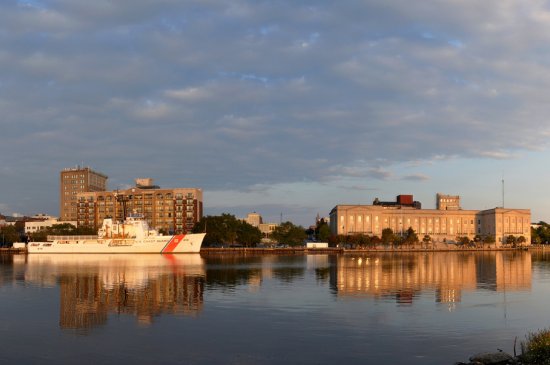 Wilmington gets good news and bad news
Image Source: Flickr User James Willamor
Wilmington residents got a helping of both good news and bad news this week. The good news is about the rating of the local air quality, and the bad news is about business closings. Here is a look at what happened this week that Wilmington consumers should know.
Bad News - Radio Shack Locations Closing
Last month, Radio Shack filed its second bankruptcy with the first two years ago in 2015. The first time Radio Shack filed insolvency, the corporation closed 2,400 locations, including a couple nearby in University Centre and Independence Mall.
The second round of bankruptcy has forced the electronics chain to shutter more locations as it struggled to compete with megastores, like Wal-Mart and Best Buy, and online retailers like Amazon. Radio Shack was saved temporarily with its purchase from General Wireless Operations but no more.
Last Two Radio Shacks in Wilmington Shutting Down
There are two locations of Radio Shack left in Wilmington – one in Monkey Junction and another on Market Street. Both stores are liquidating their inventories and are expected to close their doors sometimes near the end of April.
Not all Radio Shack retail stores across the United States will close, but Wilmington will lack any locations as of next month. In the meantime, if you like Radio Shack, now is the time to hit the liquidation sale to pick up any supplies before these locations close down permanently.
Good News – Wilmington Rates High for Air Quality
There is also good news for Wilmington, North Carolina residents this week. The American Lung Association's "State of the Air" report has included one of our state's cities for the first time in the history of the report which started 18 years ago.
Wilmington was one of the six cities that ranked highest from 2013-2015. In addition to Wilmington, also on the list were Burlington-South Burlington, Vermont, Honolulu, Hawaii, Cape Coral-Fort Myers-Naples, Florida, Elmira-Corning, New York and Palm Bay-Melbourne-Titusville, Florida.
Wilmington Ranks High Across the Board for Clean Air
The American Lung Association rated cities on three factors. First was for zero high ozone or high particle pollution days – these include the six cities listed above. The second factor was year-round and short-term levels of particle pollution. This means there were no days that fell on the unhealthy level for short-term particle pollution.
In addition to the six cities above, 11 other cities made that list including ones in Maine, Wyoming, Colorado, New Mexico, Florida, Arizona, and upstate New York. The third factor was cleanest cities for ozone and short-term particle pollution. Cities that ranked on this list had no days in the unhealthy zone for ozone and short-term particle pollution.
In addition to Wilmington and the other cities listed above, there were 23 other cities that ranked. These cities include those in Washington, Georgia, Virginia, South Carolina, Iowa, Alabama, Wisconsin, Arkansas, Florida, Mississippi, Missouri, Texas, Louisiana, and Montana. Greenville and Washington, NC also made this list.
Wilmington Economy Is Booming – Are You Doing Well?
We wrote recently about the booming housing market in Wilmington and new businesses coming to Wilmington. If you're struggling financially, this may be a good time to make a move to get out of debt. With more job opportunities growing all the time, if you're not employed full time or are out of work, the business boom could be your chance to get a fresh financial start.
For those Wilmington consumers mired deep in debt, a well-timed bankruptcy could be the answer to getting a clean financial slate so you can move on and thrive. Dealing with unmanageable debt can be depressing, can adversely affect your health, and wreck your quality of life. Don't let debt destroy your life.
Contact the Law Offices of John T. Orcutt today for a free Wilmington bankruptcy consultation. Call +1-919-646-2654 now for a free appointment at one of our convenient locations in Raleigh, Durham, Fayetteville, Wilson, Greensboro, Garner or Wilmington.
Resources: